On a recent road trip I was hit by The Hunger. As my long-suffering husband has worked out, if I don't get fed within about half an hour of this event, I will ruin his day and possibly his weekend. So we stopped at a motorway services that boasted an *international coffee chain that I will not name*. I was fed a cinnamon bun and a very milky coffee and we proceeded on our way.
But it did start me thinking about cinnamon buns and how I could probably make one more to my taste than the fluffy, insubstantial thing that saved Paul from my wrath.
So I did some reading and some thinking.
This
recipe seemed to go in a direction that I liked, although I was a bit sceptical about quantities & method, so I used it as a starting point and went my own way. It also turned into quite a useful receptical for a bunch of odds and ends I wanted rid of. So here we have:
Spiced Plum Buns
(for my geekier readers, you will understand that it amuses me to call something a plum bun which is IN NO WAY as heavy as lead).
1tbs + 1tsp dried yeast
250ml warm water
200ml milk
190g butter (in fact I used half butter and half lard because I had some leftover from my
pork pies
) melted
1 egg
150g caster sugar
the seeds of 7 green cardamom pods, ground in a mortar & pestle
pinch of saffron, ground with the cardamom
500g granary bread flour
500g strong white bread flour
extra flour for rolling
for the filling
125g butter, softened
100g dark muscovado sugar
1tbs ground cinnamon
75g ground almonds (or more, or less. I was using up a bag)
2 vanilla pods, seeds only (1 will do if your vanilla was fresh - these dessicated pods have been in my sugar jar for over a year)
150g roasted plums cut into bitesize pieces (leftover from the
Chinese dinner
- some cranberries, dried apricots, a chopped apple would do instead)
1 eggyolk to glaze
Add the yeast to the water and 1tbs of the caster sugar and set aside for 15 minutes while it froths.
Mix together the melted butter, egg, remaining caster sugar, saffron and cardamom in a large bowl. Stir in the flours and add the milk and the yeast mixture. Knead for 10 minutes until you have a nicely elastic dough.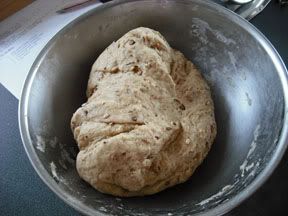 Cover with a clean teatowel and leave in a warm place to prove until doubled in size, about an hour.
For the filling, cream together the butter, muscovado sugar, cinnamon, almonds and vanilla seeds to a thick mud.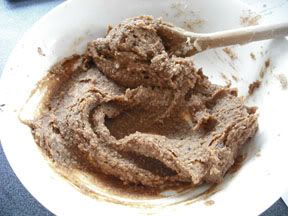 Cut the dough in half. Sprinkle the table with flour and lay half the dough on it. Roll out to a rectangle about 1cm thick.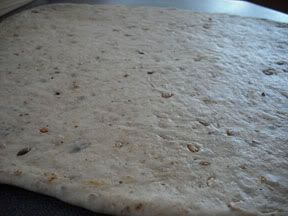 Smear lavishly with half of the filling using a palette knife.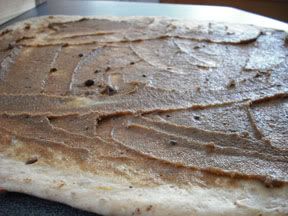 Scatter half the plum pieces along one long edge of the dough.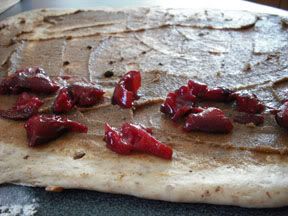 Roll up into a Swiss Roll shape with the plums in the middle.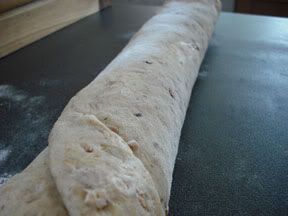 Repeat with the other half of the dough, filling and plums. Cut each log into thick slices - I got 8 slices out of each one. Lay out, cut sides up, on a baking sheet lined with baking paper. Try not to pack them in too tightly at this stage because they need some room to grow.
Allow to prove again for 25-30 minutes, or until doubled in volume again, then glaze the tops with the eggyolk.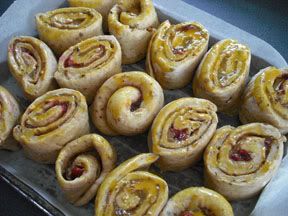 Bake in a 170C oven for 25 minutes or until richly golden brown with oozy caramel bits. Rest for 10 minutes and then serve warm if at all possible.
If desired, you can brush them with a hot glaze when they come out of the oven, but these have plenty of flavour without it.