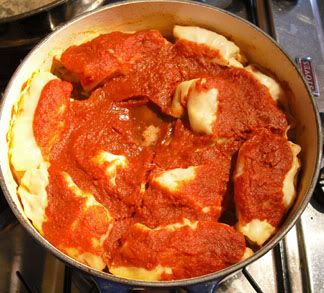 For some reason recently I have been craving Polish cabbage rolls just like grandma used to make. Or would have, if either of my grandmothers had been Polish.
Polish Cabbage Rolls
(serves several)
1 head of green cabbage
500g beef mince
500g minced pork
1 cup cooked rice
1 egg
1 onion, minced
salt, pepper & grated nutmeg
1 onion, sliced
1 cup beef stock
1 cup passata
Sour cream to serve
Cut the core out of the cabbage and simmer the whole thing in a pot of lightly salted water, peeling off leaves using tongs as they loosen (only takes about 10 minutes). Mix the beef, pork, rice, egg and minced onion and season well with salt and much more ground pepper than you think it needs and then a little bit more. Roll spoonfuls of the filling in the cabbage leaves.
Place the sliced onion in the base of a heavy oven-proof pot and layer in the cabbage rolls. Mix the beef stock and tomato passata and pour over. Cover the pot with foil or the lid and bake for about an hour. Serve with sour cream on top.