For the last six weeks, Paul and I have been glued to BBC I-player for
Rick Stein's Far Eastern Odyssey
. Long-time fans of Rick Stein, and big fans of Oriental food, we've been fascinated by his travels through Cambodia, Vietnam, Thailand, Malaysia, Bali, Sri Lanka and Bangladesh. Amazing locations, fascinating markets, larger-than-life characters and delicious-looking dishes.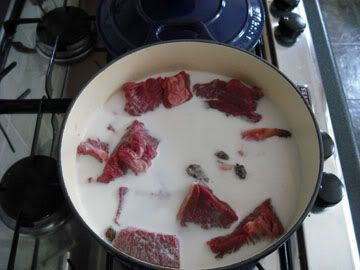 And then the joy-filled discovery that the
BBC had some of the recipes up
... I decided that the first thing to try would be the
Mussaman Beef Curry
. It's a staple of Australian Thai restaurants, but it isn't as common in the UK and the couple I have tried have been pretty horrible, with tough slices of "stirfry" beef in watery sweet coconut milk with non-descript seasoning.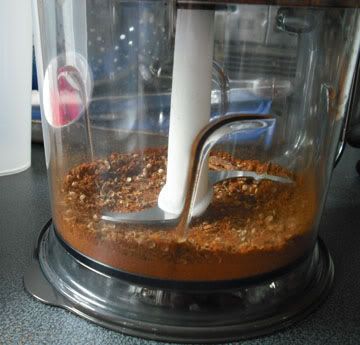 This curry was something else again. I followed the recipe pretty closely (for me) - left out the potatoes, used a couple of hot Thai dried chillies and a spoonful of paprika instead of the mellow Kashmiri chillies, and a spoonful of tamarind paste with no additional water instead of the tamarind pulp and water. Practically word for word!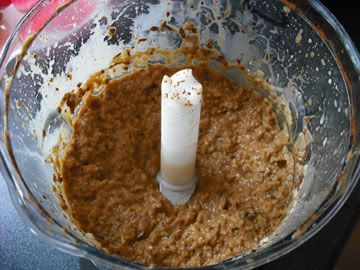 It's an unusual technique. You simmer the chunks of beef (I used brisket instead of blade or chuck) in coconut milk with black cardamom and cinnamon, adding the spice paste and other seasonings when the beef is cooked and tender.
I served it with plain jasmine rice, and some aubergine stir fried with garlic, green chillies, loads of basil and a splash of soy sauce. Absolutely delicious. And as a strange side-effect, we both found ourselves in an extremely relaxed, blissed-out frame of mind after we'd eaten it. Not the usual langour of a large, heavy meal, but something more mellow. Opiates in the spice mix?