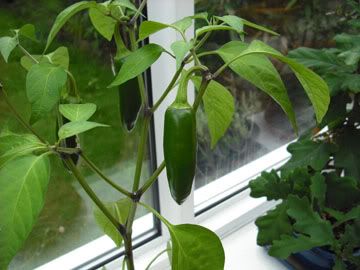 Wahaca
in Covent Garden gives out little pink and blue matchbooks when they give you the bill. These matchbooks don't actually contain matches, they contain little paper spikes of chilli seeds, with directions on how to grow them. It's a very cute gimmick.
Last year our Wahaca seeds came to nothing - the seedlings were ready to get going but then there was a hot day and they all died in the conservatory.
This year - barring a couple of cat-related accidents - the chillies have flourished.
According to Wiki
, ripe Serrano chillies (which the matchbook said these were) can be green, red, brown, orange or yellow. Which makes it slightly difficult to tell when they are ripe! So we decided that when they had stayed the same size for a fortnight, and the green was streaked around the shoulders with purple, that they were ripe.
My reading indicated that the fleshy Serrano is the ultimate salsa chilli, so for its first outing, I decided to use it in some guacamole.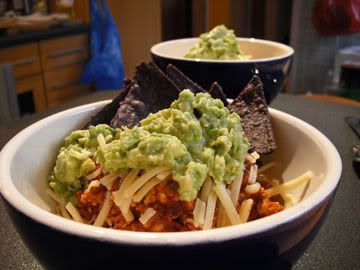 A little slice off the end of it indicated that they had a bit of a kick, but not too much, so I used a whole one, with 2 avocadoes, a pinch of salt, a load of lime juice and some finely diced onion. I'd usually add coriander and some diced tomato or cucumber to a guac, but I wanted the chilli to be the star of the show.
Dolloped onto a turkey chilli (Tex-Mex style - quite saucy and no beans) with grated cheese and blue corn chips, it was a quick and easy meal. And the home-grown chillies were definitely the star of the show.