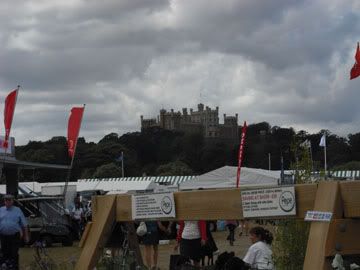 Some of you will remember that last year we attended the
CLA Game Fair
, where we purchased the
BEST PORK SCRATCHINGS EVER
.
Well, it was that time of year again, so this time we schlepped up to Belvoir Castle in Leicestershire. Due to the linguistic idiosyncrasies that come about when Saxon peasantry have Norman overlords, Belvoir is actually pronounced
Beever
.
The pork scratchings seller was there again - the product just as good as before - but this year I was particularly keen to get to see some of the cooking demonstrations.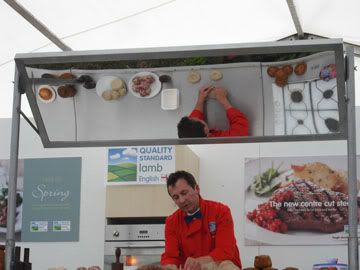 Stephen Hallam, a representative of
Dickinson & Morris
, was doing a demonstration of the Melton Mowbray pork pie. And since we were about 5 miles from Melton Mowbray, it seemed churlish not to watch.
Interesting facts that came out of his demonstration:
as with the classic Parmigiano-Reggiano/ Proscuitto di Parma relationship, the Melton Mowbray pork pie was born out of the local cheese industry. The whey left from making Stilton cheese was fed to the pigs, which produced a surplus of good pork, which was stuck into pastry for ease of transport.
The Melton Mowbray pork pie now has Protected Geographical Indication status - like Champagne and Gorgonzola
Melton Mowbray pork pies are known as "hand-raised" pies because they are shaped by hand and not in a tin.
So clearly I had to go home and put some of the tricks of the trade into practice. He didn't actually hand out a recipe, but there were some principles to follow:
All meat, no rusk or filler
Equal amounts of pastry and filling
hot water crust to be made with lard
the hot water crust doesn't have to be used hot

50% cubed pork shoulder and 50% minced fatty pork belly
Seasoned with salt and white pepper (although I am pretty sure he was fibbing, or at least side-stepping the truth, because I am quite sure there is nutmeg in a Dickinson & Morris pork pie)
you put 2 holes in the pastry - one to pour the jelly into and one to let the air out of. This basic piece of physics was a revelation to me.

Hand-Raised Pork Pie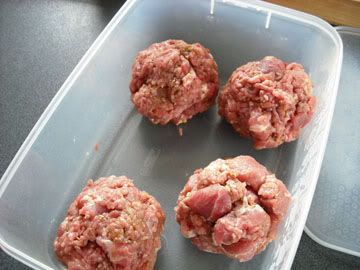 500g minced pork belly
500g cubed pork shoulder
2tbs salt (I was using Maldon - I'd say halve it if you are using table salt)
2tbs coarsely ground white pepper
1tsp ground mace
1tsp ground nutmeg
1tsp dried sage
750g strong white bread flour
200g lard
290ml water
1 egg
1 cup jellied pork stock
Bring the water and lard to the boil, pour into the flour and stir to a dough. When it is cool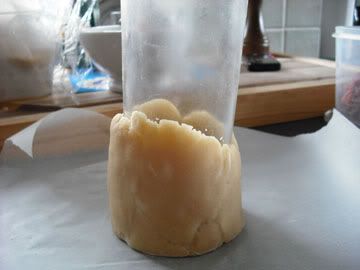 enough to handle, divide into parts. You need 3/4 of the dough divided into 4 for the cases and 1/4 divided into 4 for the lids. I know - complex mathematics. Shape each of your 8 bits of pastry into discs, wrap in clingfilm and refrigerate overnight.
Mix the pork shoulder and belly and season with salt, pepper, nutmeg, mace and sage. Divide the mixture into 4 and roll into balls. Set aside.
Temper a disc of case pastry in your hands until it is pliable. Use a glass or a jar or something, lightly dusted with flour, to shape the case. Ease the pastry off the case using a palette knife. Push a ball of filling into the case. Temper a disc of lid pastry in your hands to top it. Crimp the top pastry (I didn't get the hang of that with these ones, but I think I have figured it out for next time).
Repeat with the other three lots of pastry and filling.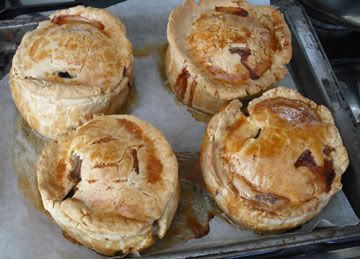 Glaze the pastry - sides and top but not crimped edges - with egg.
Cut 2 holes in the lid.
Bake on a baking sheet (with a rim - I had a bit of overflow) at 180C until they are done. Apparently it takes longer for the pastry to cook than the meat, so when the pastry is an appetising brown colour the meat will be done too. About an hour.
Allow the pies to cool.
When the pies have cooled, melt the jellied stock in a saucepan and pour a little into each pie using a funnel. Stop when the stock starts to pour out the other hole.
Chill.
Serve cold with hot English mustard and possibly some Branston pickles and certainly a tall glass of cider or ale. A classic bar snack, a classic British dish.