Ever since April, when Jude & I went to
St John
, I have been wanting to have a go at razorshell clams. And for quite some time now, Paul has been complaining that I never cook linguine vongole for him. A Friday night - when skillful sourcing is more appealling than elaborate cooking - seemed like the perfect time to pull out the clams for a very simple, quick but impressive meal.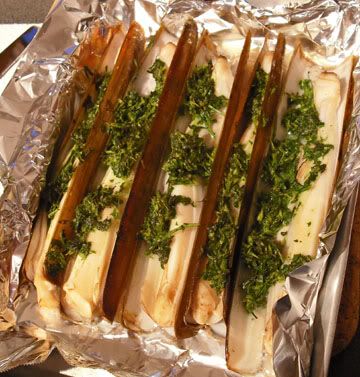 To fend off hunger, I made a quick razorshell appetiser. I made salsa verde, roughly following a
Hugh Fearnly-Whittingstall recipe
. I dolloped the salsa verde into the razorshells and stuck them under the grill for a couple of minutes. After fortifying ourselves with that, we had the strength to cook the pasta.
After draining the squid-ink fettucine, I fried a lot of sliced garlic in a good dollop of olive oil. I added some dried pasta seasoning (garlic, parsley and chilli flakes), the venus clams and the rest of the salsa verde. A good splash of white wine and then the drained pasta got a good shake around so that all the strands were coated in the herby juices.