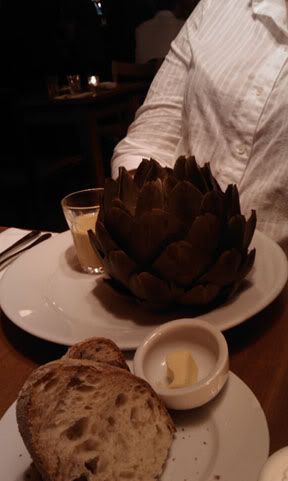 Artichoke Vinaigrette was love at first sight for me. The beautiful plump, fleshy flower, the ritual of tearing off the leaves one by one with your fingers and raking the meat from each with your teeth, the piquant sauce, scooping the choke out with a teaspoon to access the sweet, dense heart. All absolutely captivating and delicious.
I never prepare artichokes like this at home - if an artichoke darkens my doors, it knows it is going to be turned into an
artichoke fritter
- but I find them very hard to resist when I see them on a menu. Although I do take a very long time to eat them, so it isn't a dish for when I am in a hurry.
These were absolutely enormous and made a very substantial starter. In fact, with some good bread and butter (there was good bread and butter on the table BUT I DIDN'T EAT IT), an artichoke vinaigrette makes a very nice lunch or dinner.
This vinaigrette had so much mustard in it that it was almost the texture of mayonnaise. Very delicious, although I usually prefer a simple oil and vinegar vinaigrette, emulsified as you dabble each leaf in it. Such luxury!
Artichokes and vinegar are both bastards to match with wines, which also makes it very good for a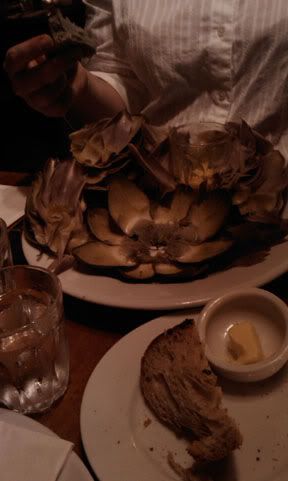 booze-free Monday evening.