Something funny is happening at our local. The staff are the same, the menu is the same, but I have a feeling that management is changing... there is just a funny atmosphere at the moment and the manager is either absent or looking anxious.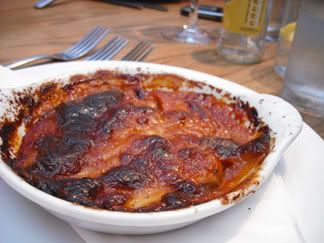 But the most recent wine dinner was very good. I have mislaid my menu. so I can't be sure about all the wines, so bear with me.
It was all wines from Piedmont, in the very North-West of Italy, with fairly generic but very tasty Italian dishes to accompany.
The first wine was a red. A Dolcetto by Fontanafredda, it was an intense purple colour with good legs - an unusual choice for the first wine of the evening, but it went well with the delicious melanzane parmigiana. Very cheesy, very well cooked, just delicious, served in cute little individual gratin dishes. A cynical person would suggest that this is the perfect first course - with that much melted cheese and the fires of hell in the tomato and aubergine , everyone would have burned their mouths and destroyed their palates so you could serve any old shit after that. Of course, I am not a cynical person.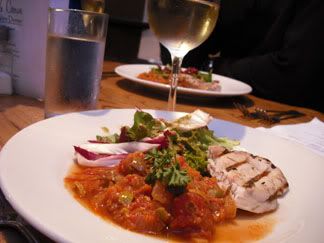 The next wine was a lovely Gavi di Gavi. Fragrant, not too sweet and very pleasant. It came alongside a grilled swordfish steak, with a sort of puttanesca sauce (tomato, olive, anchovy and caper) or a courgette stuffed with garlic and ricotta. Very nice. The portion of fish was a little small for the amount of sauce, and swordfish is difficult to get tender and not wooden, but this was a pretty good dish.
God knows what the third wine was. It was red. I honestly cannot remember a thing about the flavour, the grape or anything else of the spiel the wine rep did. But it came with a really nicely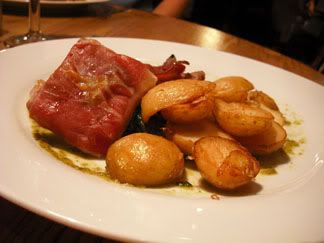 cooked saltimbocca, served with lovely buttery spinach and rather too many small roasted potatoes. I was really impressed - you really don't see veal on the menu very often, and this was cooked very well, so it was tender and had the flavour of the sage and proscuitto right through it.
Dessert was tiramisu. It was OK - there could have been more coffee and booze in the sponge fingers, but it was certainly better than many I have had. The wine was a moscato di asti - a sweet, sparkling white wine not a million miles away from the horrible asti spumante many Australians of my vintage had as their first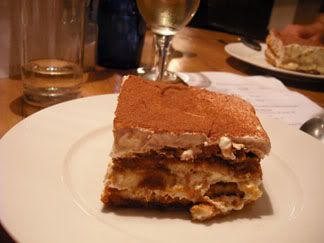 alcoholic beverage. I am happy to say that this wine, treated as a dessert wine and served very cold, in small glasses and with a not-very-sweet dessert it was just lovely. Not a bit like the wine I had to pour into the pot plant at that engagement party some years ago.
The Rose & Crown does that sort of food so well - and some of the other dinners have been so odd - that I am a bit anxious about the next one. South African, 1st October. Watch this space.