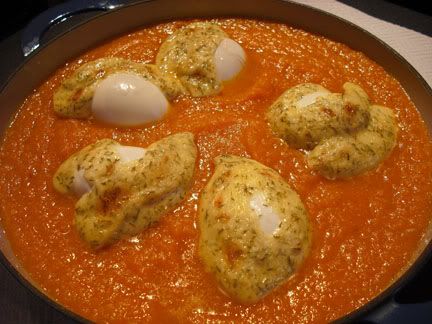 Some days I think that I could have a useful career as a rocket scientist or a brain surgeon, if only I had less food in my head and more useable information.
Take my HSC (Higher School Certificate, the matriculation exams in Australia). I did very well. But what can I now remember of the text
Educating Rita
? That Rita makes a joke about liking Ferlinghetti served with Parmesan cheese. That the tutor (whose name I forget) likes his lamb "done to the point of abuse", that "you can incinerate ratatouille and it still wouldn't burn" and that his relationship finally ends because of a dish of Oeufs à la Crécy. Eggs with carrots. See what I mean? So much wasted memory-space.
Anyway. For the last 3 weeks our vegetable box has contained carrots. And it reached the point where some were beginning to be floppy, some were still firm and all of them had to be eaten. So eggs with carrots it is.
Strictly speaking, I think it is supposed to be poached eggs, but I really wasn't in the mood to try to poach 5 eggs, so I used boiled. I made a thick carrot puree - just carrots and a couple of onions boiled in vegetable stock, seasoned with nutmeg and put through the food processor - spread it in my oven-proof dish, topped it with the peeled eggs, coated each egg with a dollop of dill hollandaise and flashed it under the grill until the hollandaise bubbled. It was good! Don't know how I achieved it, but the eggs were delicious. The yolks were cooked through (Paul doesn't like runny yolks) but very tender and creamy and the whites firmly set without being rubbery. The flavours worked very well together and it was extremely filling.
So next time your kids say "Why do I need to read this? I'm never going to need to know about it" you can tell them that in 18 years time, that book might make you dinner.