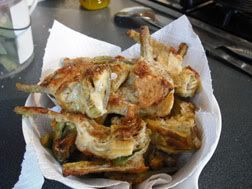 Having determined that I was going to make gnocchi and pesto for our guests, I had to come up with something to snack on before hand, and a dessert to follow.
Artichoke fritters would be hot and fairly substantial with a glass of something while we were chatting and I was cooking the gnocchi in small batches. They also look spectacular and provide a nice crispy crunch which would be a good contrast with the soft gnocchi.
For dessert I made a boozy citrussy trifle. I don't like jelly in trifle, so I never put it in.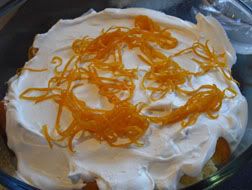 Boozy Orange Trifle
1 madeira cake (or other plain loaf cake)
2 tbs
whisky marmalade
4 navel oranges
1/4 cup booze (I used the brandy from my bottle of calamondins, sweet sherry, marsala or madeira would be OK too)
500ml good quality vanilla custard
4 calamondins in brandy (or juice of half an orange, zest of half an orange and 2tbs booze)
400ml cream
Cut the cake in half horizontally, smear with the marmalade and stick it back together. Cut the sandwiched cake into 1.5cm slices and use to line a glass bowl.
Pare the zest from the oranges and set aside. Cut the peel off the oranges and cut between the segments, collecting the juice. Mix the juice with the booze and sprinkle over the cake slices in the bowl.
Place the orange segments in the bowl and top with the custard.
Puree the calamondins with another spoonful of the brandy they were bottled in, mix with the cream and whisk to a soft syllabub, and pour that over the custard.
Garnish with the zest from the oranges, cut into julienne and candied.
Serves 5 people with 4 having second helpings and 2 finishing it later on for supper.