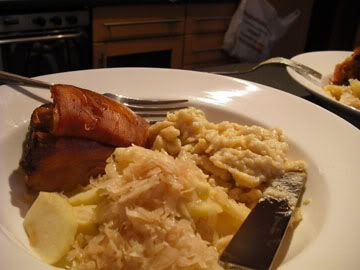 Does anyone else remember the Richard Scarry story of Brave Pierre Bear? Brave Pierre Bear lives way up North, he fishes, he builds canoes, he snowshoes and he shoots moose. And after shooting a moose he makes moose pies, moose cakes and 13 jars of minced moose meat.
I have been feeling very much like Brave Pierre Bear every time I opened the fridge this week. It seemed that there were pork products everywhere I looked. I had a tray of pork skins in salt, waiting to be made into scratchings, a tub of pork belly in a cure for bacon, and another tub of pork hock being cured for
eisbein
.
Eisbein isn't one of my culinary traditions. I've had it a couple of times in South Africa and thought it was delicious, although far too big a portion! So I decided one hock between the two of us would be plenty. I sort of followed
this
recipe, using a dry rub of salt, pepper, garlic and juniper berries. Then I slowly roasted it for 2 hours, basting it with a dark ale as I went, until the meat was meltingly tender and the skin was dark and sticky.
I served it with sauerkraut cooked with apples and white wine, and some
spatzli
. Now, spatzli ARE part of my culinary heritage, and I fear Grossmami would turn in her grave at the sight of them. For one thing, I used a ricer, instead of cutting them from a board into the water the way she did. And I had the ricer too far away from the water, and my water wasn't deep enough, so they clumped together a bit. On the other hand, they were light and the flavour was very good.
The other downside, of course, is that I produced a dismally beige plate of food. Even using red apples and leaving the skin on would have helped! The tiniest sprig of parsley, perhaps? Good, rich comforting flavours, even if it looks unappealling.