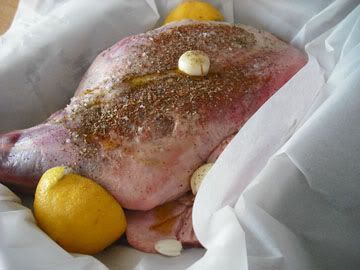 ΚΑΛΟ ΠΑΣΧΑ! Which I have reason to believe means Happy Easter in Greek. Now, you know how I love appropriating other people's holidays, so I thought I would extend the Easter love and do something Greek to commemorate Easter in the Greek community.
I made
tsoureki
once years ago and the red eggs exploded in the oven and it didn't rise very well, so I decided to play it safe and make kleftiko. I hope that it is recognisable to the knowledgeable as kleftiko...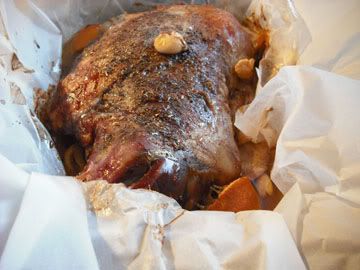 Kleftiko
1 shoulder of lamb, on the bone
8 cloves of garlic, peeled but whole
1 tbs dried wild oregano
2 tbs olive oil
1 lemon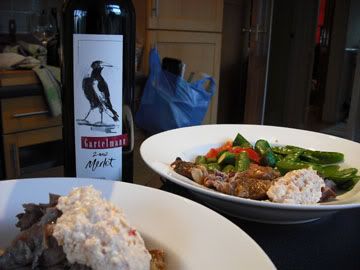 1/2 tsp ground cinnamon
salt & pepper
Preheat oven to 130C. Put 2 very long sheets of greaseproof paper at right angles in a medium sized roasting tin (you are making a parcel, so you want the paper to enclose the meat completely) and sprinkle it with half of the oregano and half the olive oil.
Put the lamb shoulder into the tin. Squeeze the lemon over the meat and tuck the squeezed halves into the tin. Put the cloves of garlic around the meat. Sprinkle with the cinnamon, the rest of the oregano, the olive oil and a goodly amount of salt and pepper.
Fold the paper up into a parcel, leaving some room for air to circulate.
Seal the parcel with a wooden clothespeg.
Put in the oven and leave for 5 hours.
The meat falls from the bone in sticky, tender shreds. I made a sort of sauce from 100g feta, mashed, 1/2 clove of garlic, chopped, 1/2 tsp chopped chilli and the juice of a lemon, which I sort of blobbed on the side. I also sauteed some baby courgettes with garlic and tomatoes, and zapped some mangetout in the microwave.
Serve with the best red wine you can muster - which in this case was a 2002 Gartelmann's Merlot, from the Hunter Valley in NSW. This wine has been through several house moves with us, and is drinking extremely well now. Light, still quite fruity, delicate but with enough oomph to get through the feta and chilli. It warranted getting out the good glasses.