Yes, it is that time again. The school holidays. So Jude and I have been racking our brains for the last month or so on where to go for our treat lunch. We finally settled on
St John
. Allow me to suggest that the squeamish run away and play, and come back in a couple of days when I will have something non-confrontational for you.
St John does offal. It does game. It does unusual cuts of meat that you are not particularly likely to see in other places. And it does them really very well.
I tend to think that the condition of the loos tells you a lot about a restaurant. The loos at St John are immaculately clean and white tiled. The hand soap is from
Cowshed
(which I love) and the hand dryer is a Dyson Airblade (which is so good it has actually given me an opinion on hand drying). So what we are seeing is simplicity and minute attention to detail.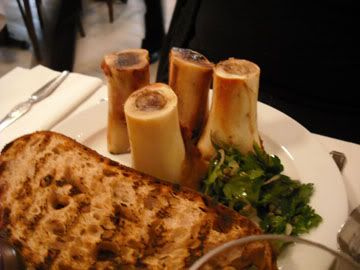 Best to get the downside out of the way fast. The lovely sourdough bread that Jude nibbled and I wolfed while we read the menus would have been much better served with side plates. I thought that was the only wrong note for the day. I hate buttering my bread on the table, and with slices of bread it isn't like rolls where it is easy enough to break off bits and hold them in your hand to butter them. Pet hate of mine.
Moving on...
The starter they are noted for is the bone marrow. Simply roasted, presented with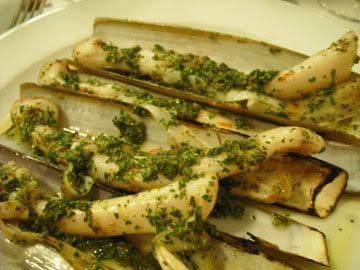 beautifully grilled toast, parsley salad and damp grey salt, you are instructed to scoop the marrow onto the toast, sprinkle with the salt and top with a little of the salad. The little bite I had of that one was fatty, rich and delectable. Jude said that she would never eat another starter if it was on the menu.
I had quite a hard time choosing a starter. They had brown crab on toast, which I adore, and anywhere else it would have been a certainty, but I thought I should try something else. They had grilled razor clams, and I have always said I wanted to try razor clams, so I gave them a go. Having seen
this
footage of Rick Stein catching them, I somehow thought they would be a bit rubbery. They weren't. The texture was more like a scallop than a clam, sweet, meaty and yet delicate, set off very nicely by the salsa verde and the slight charring of the shells. I borrowed some of Jude's toast to mop up the juices.
I found it much easier to pick a main course. I thought the pigeon, cabbage and bacon sounded fabulous. And it was pretty good. The cabbage was slightly over salted, and the way it presented I was looking for the tang of sauerkraut which wasn't there. Not the fault of the dish, just my expectation when seeing finely shredded, slowly cooked white cabbage. It had the mouthfeel of sauerkraut, just not the flavour. The big lardons of tender bacon through it made up for that though! The pigeon breast meat was lovely and gamey, cooked just a bit more rare than medium, which is how I like it, but it meant the thighs and wings were just a bit too tough to be edible.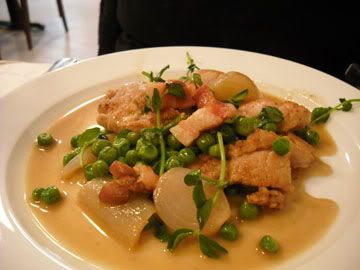 I think on the main courses Jude made the better choice. Her
lamb sweetbreads
with peas and mint were just lovely. I have had sweetbreads before - and not been particularly wowed by them. These were delicious. Tender and creamy, rich but not cloying with the mint, peas and onions.
We shared some tiny little potatoes, cooked in their jackets. I could have eaten those potatoes all day.
With our meals we shared a bottle of a very nice Minervois. A red wine, but quite light and (I thought) well suited to our food. Something I really liked was that the wine list is arranged in order of prices, so it was quite easy to draw my line in the sand of what I wanted to pay for a bottle. And there were quite a few bottles for less than £30, which was very pleasing!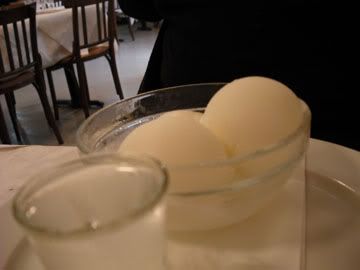 The dessert menu was too hard to resist. Our plan to share half a dozen freshly baked madeleines came to nothing. I was very tempted by the raspberry ripple icecream. And then I was very tempted by the treacle tart. And then I thought it would be nice if there was someone willing to share the marmalade sponge for 2 with me. And then I thought eccles cakes with lancashire cheese would be good.
Jude was much more focussed. She spotted the lemon sorbet with Russian vodka and ordered it with a minimum of fuss or vacillation. It was a wonderful sorbet! Just nudging at the edge of being too sharp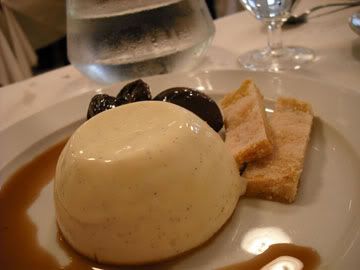 without going over it; perfectly smooth without a hint of icyness.
I opted for the buttermilk pudding with prunes: Jude thought you'd have to have a nursery food fetish to be interested in that. Which I do - but I was actually thinking more of my mother's sublime buttermilk pannacotta. This was a softer set than a pannacotta, closer to yoghurt really. I couldn't believe they managed to turn it out! It was vanilla-y and lemon-y and lactic-y and gorgeous. The prunes were good. They would have been better if they'd been plumped up in some Pedro Ximenez or armangac. The shortbread fingers showed just how short it can be. Just lovely.
The classiest moment of the meal came at the end. When Jude's starter was cleared, she'd asked if her marrowbones could be wrapped up to take home for her dog. At the end of the meal she was presented with a bag containing about 10 of the bones. He is going to be a very happy puppy!
Oh - and I forgot to say that Fergus Henderson was there, chatting to a couple of people and dealing with suppliers. That is very, very cool.