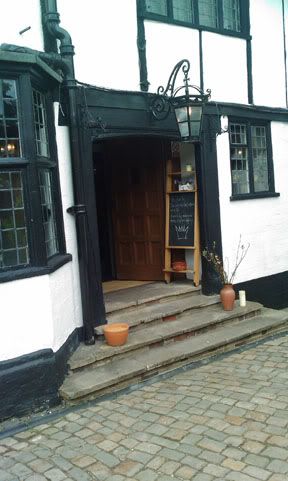 On a sunny, spring Sunday, we headed out for a pub lunch.
Our first destination,
The Bricklayers Arms
, was heaving. We couldn't get anywhere near it, not even just to park and see if we could perch at the bar to eat. So we headed off to another favourite -
The Swan
in Amersham. The Swan does an excellent Sunday lunch, and we've always eaten very well there.
But as we got closer I remembered seeing a
rather good review
of another pub in Amersham -
The Crown
. So we decided to try our luck.
It was a good decision.
It's an old coaching inn; you pass under an archway and a courtyard opens up in front of you with blossoming cherry trees and a herb garden on one side and the wide doorway into the restaurant on the other.
It was very busy, but we were given seats at a lovely long communal table (but we didn't have to share it with anyone) adorned with a massive earthenware jug of lilacs.
We were offered glasses of prosecco spiked with home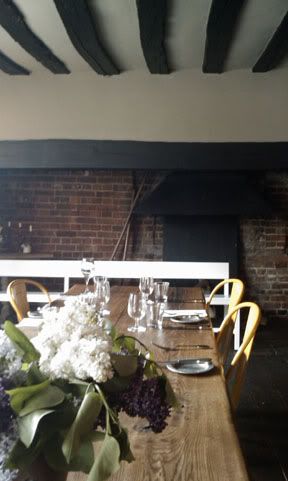 made elderflower cordial, but Paul stuck to a locally brewed beer (Rebellion Blonde) while I had plain prosecco.
Decision-making was quite difficult, because there were lots of good-sounding dishes on the menu. And the house-made soda bread that they brought out was very reassuring about the quality of the food.
The service was fairly slow, and quite patchy in quality. A not-very-engaging young woman took an order for water and was never seen again, and then a really on-the-ball young man eventually took the same order and was back in moments.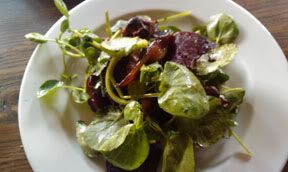 As a starter, Paul had a salad of chicken livers and beetroot. I was surprised, because he reckons not to like beetroot and he is VERY picky about chicken livers. But these were cooked very much to his taste (browned beautifully on the outside and barely a trace of pink in the middle).
I had a terrine of local pork with spiced pickled prunes, which was just lovely. Really good chunky texture, not too liver-y and perfectly seasoned. It was maybe a fraction cold, but that is one of my perennial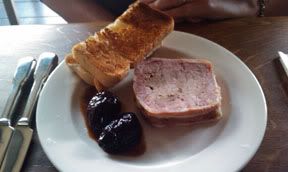 complaints. The prunes were an excellent accompaniment, but I could have done with a little bit more toast.
As main courses, Paul went traditional British and I went traditional French.
His roast sirloin of beef with roast potatoes, fluffy Yorkshire pudding and horseradish cream was a really good example of what a Sunday roast can be.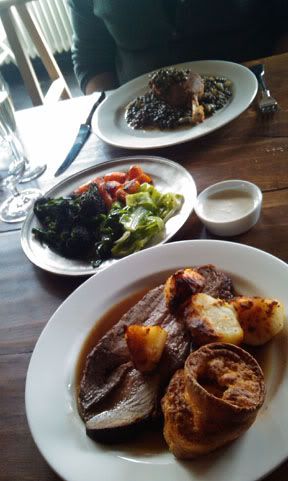 My crisp-skinned, meaty confit duck leg came on a lovely bed of Puy lentils - slightly too salty if I am nitpicking.
The vegetables are what really makes or breaks a pub lunch. There are loads of places that can turn out a perfectly decent piece of meat and crisp roast potatoes but then let themselves down with microwaved frozen mixed veg. The Crown is not one of those places. We had a generous portion (on a pewter plate, which isn't great for keeping things warm) of sweet little roasted chantenay carrots, perfectly steamed purple sprouting broccoli and buttery, tender green cabbage.
The very on-the-ball young waiter came back to try to sell us desserts. Unfortunately it was 3.30pm by this stage and we were expected at a friend's house for a barbecue at 5.30, so we had to decline. Next time. And there will be a next time for sure.