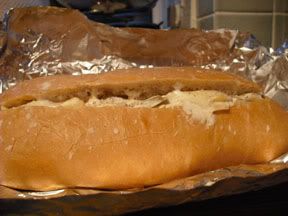 When I saw
this recipe
over at Joie de vivre, I knew I had to make it. What could be more perfect than crusty bread filled with hot melty cheese and artichoke hearts?
Inevitable tweaking - I hollowed out my loaf, filled it with an uncooked mixture of reduced fat sour cream, mozzarella, parmesan, garlic and chopped artichoke hearts, then wrapped it in foil and put it on the barbecue alongside some nice thick beef burgers.
I should have cooked it for longer - I didn't quite get the ooziness of cheese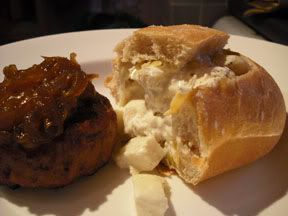 that I was after - but the flavours were just lovely, and as an accompaniment to the burgers, topped with onion marmelade, it was just wonderful. Made it look as though I had put in much more effort than I actually had!
Definitely one to do again.