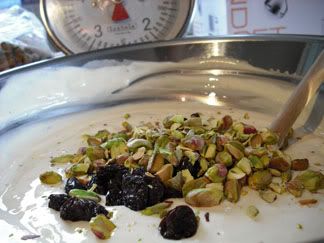 We were going to have dinner with friends. I said I'd bring a dessert. I liked the sound of Nigel Slater's
Pistachio Yoghurt Cheesecake
, but I thought "barely firm enough to cut" didn't sound very transportable.
So I took the flavours from that recipe of yoghurt, pistachios and dried figs and concocted a baked cheesecake. Very successfully, too.
Baked fig and pistachio cheesecake
Biscuit base
80g unsalted butter, melted
210g shortbread biscuits
60g pistachios
Filling
600g cream cheese, at room temperature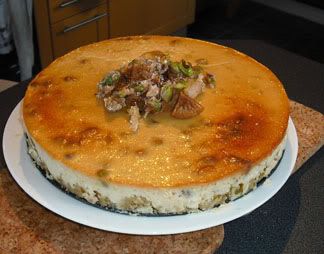 4 tbs well-flavoured honey
80g dried figs, chopped
2tbs sherry
60g pistachios, chopped
60g dried sour cherries
3 eggs
3 tbsp plain flour
150g Greek yoghurt
1 tsp vanilla essence
1 Lightly grease a 20cm spring-form cake tin with a little of the melted butter. Wrap the outside of the tin in foil.
2 Melt the butter gently in a small pan on a low heat. Roughly break up the biscuits and place them in a food processor with the pistachios. Pulse for a couple of minutes until it resembles fine crumbs, with coarser chunks of pistachio. Pour in the melted butter and process for 30 seconds to combine.
3 Put the biscuit mixture into the base of the tin, using the back of a tablespoon to smooth the surface evenly. Place in the fridge for 30 minutes.
4 Soak the chopped dried figs in the sherry for 30 minutes.
5 Place the cream cheese, honey and yoghurt in a bowl and beat until smooth. Add the figs and sherry, roughly chopped pistachios and dried cherries. Add the eggs, one at a time, beating well after each addition. Add the flour and vanilla essence, and beat until well combined.
6 Place the foil-wrapped tin in a large roasting dish and pour hot water to come half way up the side (not higher than the foil). Pour the filling into the tin and bake in a low oven at 150C for 1 hour. When cooked, the cheesecake should be well risen, with a golden-brown top. It should feel slightly firm to touch - if the mixture still appears wet, continue to bake a little longer. When cooked, turn off the oven and allow the cheesecake to cool in the oven, with the door open. When completely cool, place in the fridge. Decorate with pistachio brittle and some quartered dried figs.