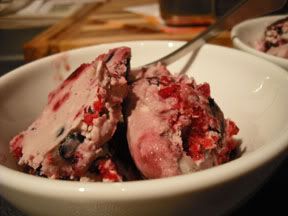 I have been told that I can't buy any more kitchen appliances until we've bought our own house. Which seems fair really, but I decided that I NEED an icecream maker. And then I saw these
icecream balls
and managed to bring an icecream maker into my home without it being considered a kitchen appliance. In fact, you could almost consider it exercise equipment...
So, you put your icecream mixture in one end, some ice and salt in the other and shake and roll it around for a while. And there you have a pint of icecream.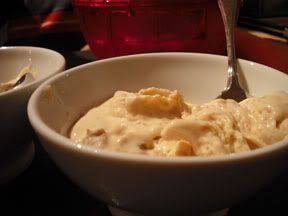 The first batch I made was a simple cream, sugar and mixed berries one. The berries were still mostly frozen, so it only took 10 minutes of shaking to have a luscious batch of purpley pink ice cream. But because it was a cream base, the leftovers froze rock-hard and didn't have the mouthfeel of a custard base.
For the second batch I used some bought premium vanilla custard, a slosh of cointreau and a big scoop of my homemade quince marmalade. The mixture wasn't as cold as the last one, so it took longer - closer to 20 minutes to get to a soft-serve texture. But it was just delicious, with the proper velvety texture I look for in icecream.
I still aspire to a proper icecream maker, but this is a cute gimmick. And it makes a nice small quantity so I can have it as a little treat without too much effort. And it gave me the opportunity to experiment with putting up a bit of video.