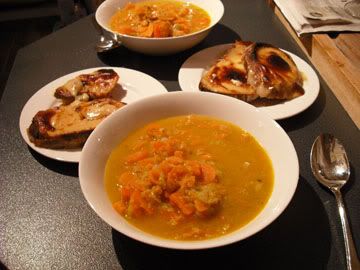 As Tennyson said "In the Spring a young man's fancy lightly turns to thoughts of love". He could just as well have said "In the Autumn a young woman's fancy lightly turns to thoughts of melted cheese" but he seems to have idealised skinny, consumptive women who didn't know how good fondue and raclette could be.
The weather has turned cold and nothing seems more appetising than a simple bowl of soup and cheese on toast. I decided that instead of doing a regular grilled cheese on toast, I'd make it a bit fancier and do a rarebit - it's
George Gaston's fault, he did one recently
that gave me such a craving!
This is a good Meat-Free Monday meal, but I am also going to send it over to
Deb
for her Souper Sundays round up!
Carrot & Leek Soup
2 leeks, washed and sliced finely (this was an excuse to use my new mandolin)
500g carrots, sliced finely
vegetable stock
butter
Melt the butter in a big saucepan, add the vegetables. When the leeks start to soften, cover with the vegetable stock and bring to the boil. Reduce the heat, cover and simmer until the leeks have collapsed to a puree and the carrots are soft. Season with salt and pepper.
Welsh Rarebit
4 slices of good, sturdy bread
1tsp butter
1tsp flour
1/2 cup brown ale
grated cheese (I used a mixture of mature chedder and parmesan)
worcestershire sauce
cayenne pepper
Dijon mustard
In a small pan, make a roux of the butter and flour. When it starts to bubble, gradually add the ale, stirring constantly until you have a smooth sauce. When the sauce comes to the boil, gradually add the grated cheese, stirring constantly while it melts. How much you need is a matter for you and your cardiologist - I used about 150g. When the cheese is almost melted, taste and season with a splash of worcestershire sauce, a sprinkle of cayenne pepper and a teaspoonful of mustard.
Place the slices of bread in a shallow baking dish. Pour the hot, smooth cheese over the slices of bread, and put the baking dish under the grill for a couple of minutes (watching closely) until the cheese colours and bubbles.