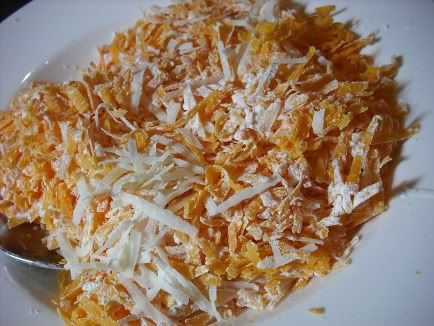 I love the expression "eating crow". It's so colourful that it somehow distracts me from the fact that I am unpleasantly and humiliatingly wrong about something. It makes it easier to throw myself into the whole-hearted admission of my error.
And so it is here.
There's been a series on TV recently called How To Cook Like Heston, in which Heston Blumenthal focuses on a particular ingredient, does some stuff that sounds totally counter-intuitive to it and then says it is the best ever. Like simmering potato skins in milk to make jam (see what I mean? Those words make no sense at all in that order!) or roasting chicken at 90C (194F) to make it really juicy. It's been moderately interesting, but the more elaborate dishes I am not interested in trying and the simpler ones I have been smugly satisfied would not be as good as my usual versions.
Paul, however, was interested in the macaroni cheese. It differs from my usual (excellent) mac & cheese in 2 key ways - instead of boiling the pasta in loads of water and draining it, you cook it more like rice until all the water is absorbed, and the cheese sauce is not based on a bechamel. Instead, you reduce white wine and a dark chicken stock right down, then mix in grated cheese tossed with a little cornflour.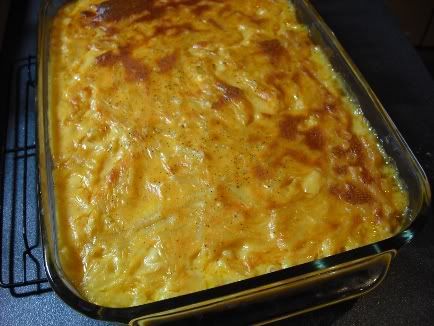 I didn't follow
the recipe
as written because those cheeses are a little out of my price range at the moment. Instead, I used a combination of red Leicester and pecorino cheeses, with a dollop of Philly for extra creaminess. I did follow the method pretty closely, including the bizarre pasta-cooking method.
And now we get to the point. He's right, I am wrong. This was indeed the best mac & cheese I have ever made. Better than the
whisky and smoke
version, better than the
garden veg
version, better than any other I have made. The texture was creamier, the cheese flavour was clearer and the leftovers reheated better. It was, from all angles, a better mac & cheese. A side order of cheesy pasta certainly helps the crow go down.
P.S Since blogger has moved to those wretched, illegible captcha words I've taken the word recognition off the site, so I just have moderation on now. If anyone has a better solution, I would welcome it because a lot of spam is getting to the moderation phase now!