How about a warm, savoury tarte tatin in this cold weather? Not particularly laborious, inexpensive and with a lovely, deep
agrodolce
flavour, I was very pleased with how this one turned out! We had big wedges of it with some warm broccoli vinaigrette but daintier portions would make a very nice starter.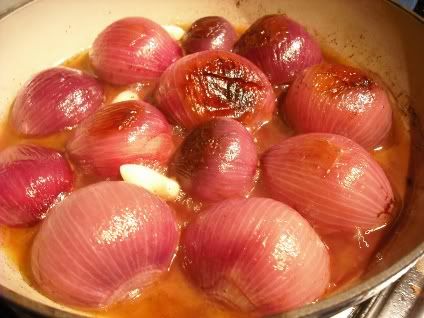 Red onions and garlic were cooked slowly in butter and red wine until soft, then sprinkled with a little sugar and balsamic. If I'd had some fresh thyme I would have added that, but I didn't want to cloud the flavour with dried thyme.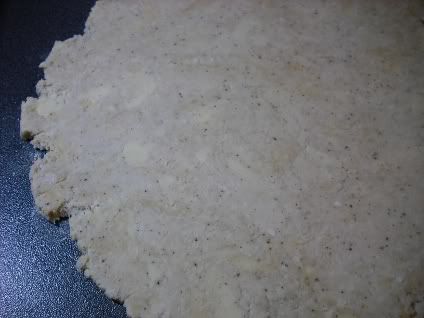 I made a light, flakey parmesan and black pepper shortcrust to create a really savoury foil for the onions.
Red Onion Tarte Tatin
Pastry
40g SR flour
80g plain flour
40g grated parmesan
1tsp freshly ground black pepper
60g butter
1 egg
dribble of water
Filling
2tbs butter
1kg red onions
2 cloves garlic
50ml red wine
pinch salt
1tsp caster sugar
2tsp balsamic
Parmesan or pecorino shavings to finish.
Peel and halve the onions. Melt the butter in an oven-proof pan (I used my Le Creuset shallow casserole) and cook the onions gently for about 15 minutes with the lid on, turning a couple of times and trying to keep the halves intact. Pour over the red wine and sprinkle with a pinch of salt and continue to cook for another 10 minutes, again with the lid on.
Sprinkle with the sugar and balsamic, and arrange the onions so that they are cut side down. Cut the peeled garlic cloves into quarters and put them in any little gaps between the onions.
Allow to cool for at least half an hour (this bit can be done ahead).
For the pastry, combine the flours, grated parmesan and pepper in a bowl. Rub in the butter, add the egg and, if necessary, a splash of water to bring it together. Wrap in cling film and chill in the fridge for half an hour or so.
After resting, roll the pastry out on a floured surface and tuck over the top of the cooled onions. Bake in a pre-heated 190C oven for 20-25 minutes or until a dark golden colour with bubbles of caramelised onion juices erupting around the edges. Let sit for a couple of minutes then turn onto a plate. Any onions that stick to the pan can be lifted off with a palette knife and replaced on the pastry. Shave over some parmesan or pecorino to serve.