Pancake Day is, of course, the more fuzzy, secular name for Shrove Tuesday. It's the day before Ash Wednesday, when one is supposed to go on an orgy of pancake eating to clear the cupboards of butter, eggs, sugar and other such sinful items ahead of the fasting of Lent. As I have no intention of fasting, or of viewing eggs and butter as sinful, Pancake Day is more of a self-indulgence.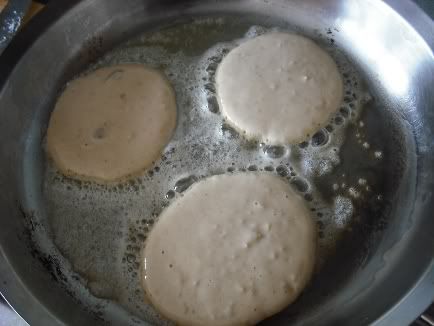 Pikelets are small, leavened pancakes common in Australia (and apparently New Zealand). They are at their best hot and fresh, but they are surprisingly forgiving of being eaten cold, which is probably why they often turn up at Australian morning tea parties where everyone "brings a plate". This version is from
Laura at Hungry and Frozen
, who added oats, ginger and golden syrup to echo the flavours of New Zealand's famous ginger crunch slice.
I didn't muck around with her recipe much. I did soak the oats in the water over night, and used muscovado sugar instead of demerara. And because she'd said they could have been a touch lighter, I used self-raising flour and a quarter teaspoon of extra baking powder. This was a good move, as honestly these could NOT have been any lighter! As a final flourish, I added a handful of crystallised ginger, cut into chunks.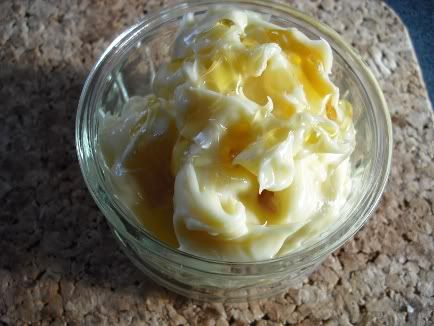 My real flourish was the sweet whipped ginger butter I served with them. Slightly spicy and utterly addictive, it set the pikelets off perfectly. I beat 100g of softened butter with 1tbs of golden syrup and a handful of chopped crystallised ginger until light and fluffy. I scraped it into a serving dish and drizzled it with a little more golden syrup.
I have quite a lot left, and I am wondering what to do with the remains. Maybe spread on some raisin toast? Or possibly used to fill some baked apples? Or maybe make some chocolate pikelets with the addition of some cocoa, spread them with the whipped butter and raise a toast to my mother in law - Marina likes chocolate-coated ginger, but it keeps getting lost in the post when I try to send her some.