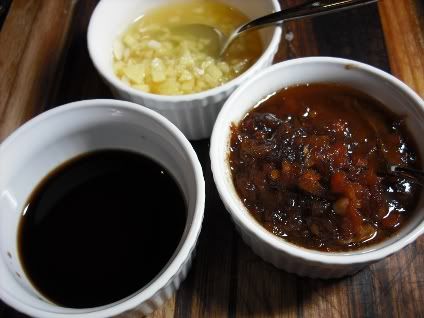 I could have sworn I've posted about Hainanese chicken rice before but I CANNOT find the post!
What I would have said, in the previous post, is that while I am a fan of the smooth, gently-flavoured poached chicken and rice, Paul is not so much a chicken rice lover, because he feels that any chicken meal that doesn't involve crispy skin is a waste of time. I would also have mentioned that, although it is not traditional, I really like
sambal belacan
with my chicken rice, because the place I used to get it in Sydney always served sambal belacan with it.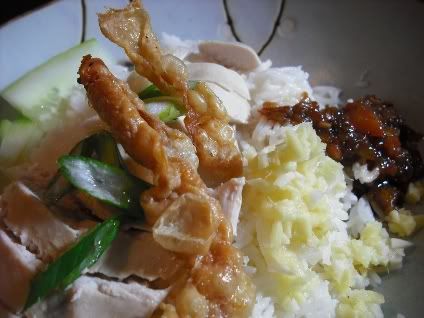 Then I saw a post on another blog that showed me the way forward. It was
Eat-Tori's
chicken soup with chicken crackling and I thought Eureka! If I skinned the chicken before poaching it, I could make chicken cracklings to add crunch to my chicken rice. I followed
this recipe
for the chicken rice and ginger sauce, but added more water and aromatics because I had plans for the leftovers. I cut the skin into large pieces, and baked them at quite a high temperature for a few minutes in a dry pan until they curled up into crisp shards of crackling.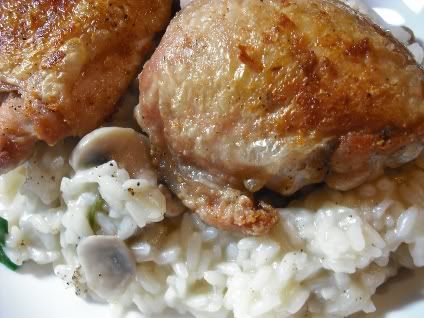 Some of the leftover broth and the remaining chicken from that meal became a chicken and mushroom risotto. I don't usually serve risotto as a side dish, but as I also had plans for the leftover risotto, I sautéed some chicken thighs and placed them on top.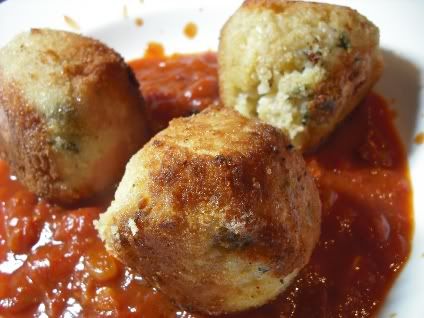 THEN the rest of the risotto became arancini. I moulded the cold, sticky rice into balls, around a cube of cheese, rolled them in flour, then egg and breadcrumbs and shallow-fried them until golden. I was hoping for a
suppli al telefono
-effect, but while the cheese (I used cheddar) softened, it didn't go into the long strands that mozzarella does. Also, there were a couple of points where I skimped on the egg and breadcrumbs, and those bits didn't hold together at all, spewing newly-molten risotto into the pan. Useful tip: be thorough.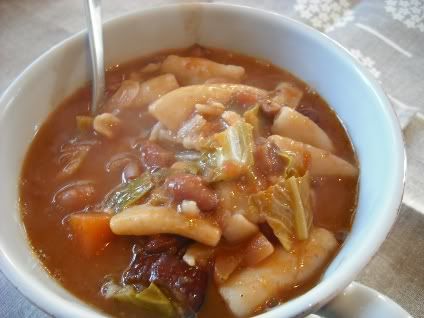 The last of the chicken broth became a pot of minestrone. Carrots, onions, borlotti beans, some smoked Polish sausage, canned tomatoes, macaroni and shredded cabbage joined the broth in a big, cuddly potful that lasted us a couple of days. I'm sending this delicious, warming soup to
Deb
for the Souper (Soup, Salad and Sammy) Sunday round-up. Do join us!