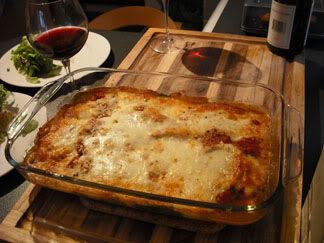 I don't know why it is, but recently I have been really craving chicken parmigiana. It isn't something I really had growing up, but it is an absolute staple of Australian pubs. And fair enough too - it is inexpensive, tasty and lends itself both to the bain marie and to eating with chips. It isn't something I have seen on menus in the UK, so I knew that if I wanted it I was going to have to make it myself.
And so I did. Taking shortcuts wherever possible. Still tasted good! After all, can you go wrong with bubbly, brown melty cheese? It's like a reduced carb version of lasagne.
Turkey Parmigiana
(serves 2 healthy
appetites with salad and enough leftover for a sandwich the next day)
400g turkey breast escallops
1 egg
dried breadcrumbs
a splash of oil for frying
100g baby spinach leaves
1 jar tomato-based pasta sauce (I used roasted garlic and basil)
1 block mozzarella
2tbs grated parmesan
Egg & crumb the escallops, then fry on both sides until browned. It's a texture thing, it'll be cooked really thoroughly again, so you don't have to be precious about cooking it through.
Line a dish (I used my trusty pyrex lasagne dish) with baby spinach leaves, and top with the escallops in a single layer. Pour over the pasta sauce, top with slices of mozzarella and sprinkle with parmesan. Bake at 190C for about 45 minutes or until everything is bubbly and browned and gorgeous. Allow to sit for 5 minutes to firm up slightly. Serve with a green salad (and some buttered macaroni if you need to bulk it out to serve an extra person).