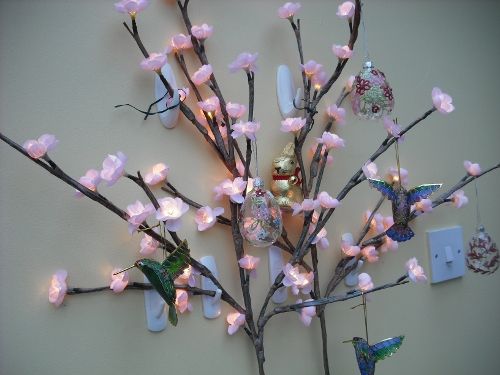 I've been wanting to write a post about sweet breads for a while, because I have been doing a bit of work on them, plus it ties into some skermishes that have been taking place in the blogosphere lately. A long weekend seems like a good time to share my thoughts.
Recently some bloggers have been getting their knickers in a twist about being asked not to reproduce copyrighted material. I'm sure this happens a lot, but I have been particularly aware of it because
Dan Lepard's
representative David Whitehouse has been kicking a hornet's nest by asking people not to publish recipes from Dan's books. Many of the bloggers are graciously saying "mea culpa" and removing the content. And many others are hissing and spitting and taking to forums to complain about what a big meanie he is, citing bits of copyright law from various sources, talking a lot of bollocks about SEO and claiming that because they altered a method or used nutmeg instead of cinnamon the recipe isn't covered by copyright and that Dan has no right to claim ownership.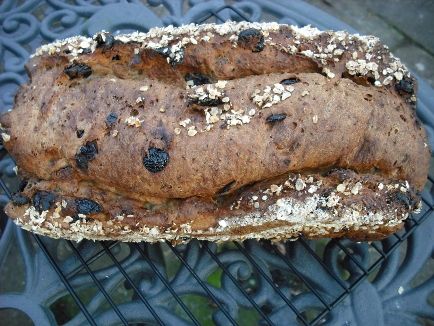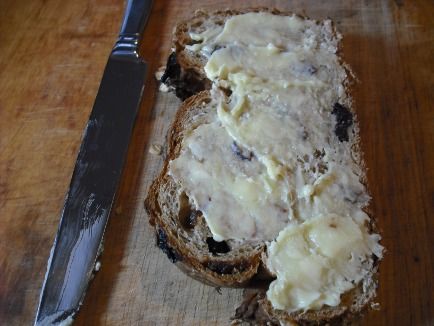 The thing is, this is a pretty fucking
immoral approach to life. Does "no, this isn't your car, I painted this one blue and yours was green" seem like a reasonable defence for car theft?
I could publish Dan's recipe for
Cranberry oat bread
, claiming it is different because I added a couple of spoonfuls of sugar, used a mixture of cranberries and sour cherries and slashed the top before the second rising. But that would be pretty
egregious behaviour given that I slashed the top at the wrong time by mistake, and as you can see it really doesn't work amazingly well my way. The bit of extra sugar was nice though.
The bit that really sticks in my craw about some of these people is the disingenuous nature of their argument. They say they have changed the recipe enough to make it their own, yet they are publishing it using the author's name. They are asserting the right of the author to be identified as the author of the recipe while at the same time saying he has no right at all. Utter nonsense.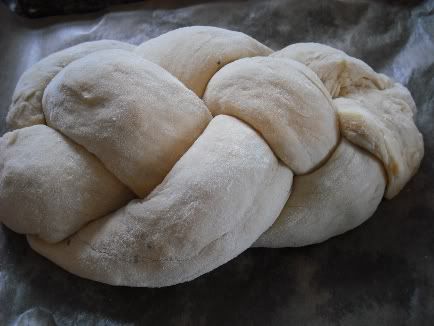 I've found
Paul Hollywood's iced finger bun
dough to be a very useful jumping off point for making sweet yeasted breads, and I do think the breads I have been making are different enough from the original recipe to be considered an entirely new beast.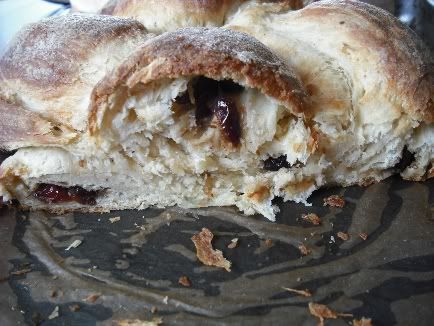 I've used the dough as written but divided into 4, rolled it out into logs filled with cranberries and plaited it, to give 4 channels of fruit through the middle of the bread.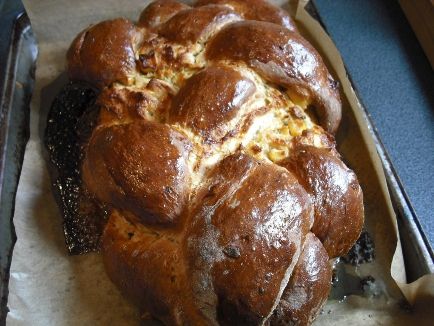 I've left out the butter completely, replaced the milk with coconut milk and added a hint of coconut essence to the dough, then roasted some under-ripe fresh mangoes with lime juice and palm sugar until sweet and sticky and plaited that into the dough.
Both ways were very delicious, although it was a bit challenging to bake - these plaited loaves need quite a long bake to cook through.
I used the same dough recipe as a starting point for this morning's buns. I didn't want to make hot cross buns, but I think we can claim that the spiral shape of these is symbolic of the returning sun in Spring.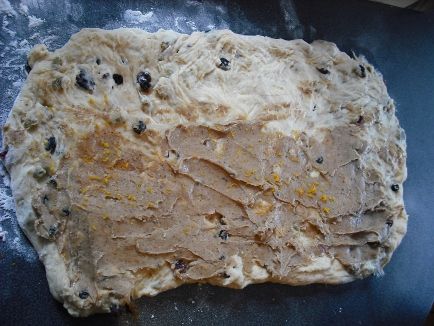 Easter Cinnamon Buns (makes 12)
500g strong white bread flour
2tbs caster sugar
2 large eggs
2 sachets instant yeast
1tsp salt
150ml warm milk
up to 140ml water
150g dried berry mix
100g butter, softened
2tbs cinnamon
2tbs caster sugar, extra
2tbs dark muscovado sugar
1 orange
Glaze
150g soft cream cheese
150g softened butter
1/4 cup icing sugar
Combine the flour, sugar, salt, yeast, eggs and milk in a bowl, adding enough of the water to make a sticky dough (my eggs were really big, so I hardly needed any water) and knead for a few minutes until it begins to come together, then add the dried fruit and knead for another 5 or 6 minutes until it is smooth (with the knobbly bits of fruit, obviously) and elastic.
Cover the bowl and leave to rise in a warm place for about an hour.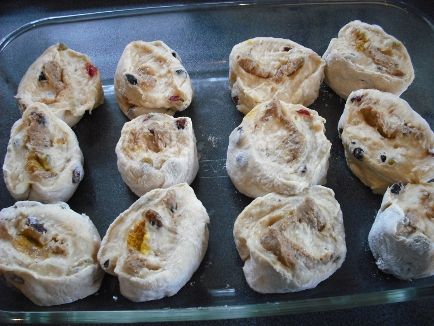 Cream the butter, sugars and cinnamon together to a thick mud. When the dough has doubled in size, tip it out onto a floured surface and stretch out into a rectangle. Smear the cinnamon butter over 2/3 of it, then grate the orange zest over the cinnamon butter. Reserve the rest of the orange to add to the glaze.
Roll tightly from a long edge and cut into 12 spirals. I find the easiest way to get even portions is to cut the log in half, then quarters and then each quarter in 3.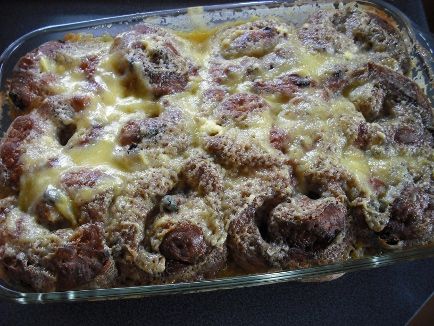 Place them, cut side up, in a pyrex lasagne dish, cover and leave to rise again until they double in size. I did this in the fridge over night.
Bake at 200C for about 35 minutes.
While they are baking, cream together the glaze ingredients and add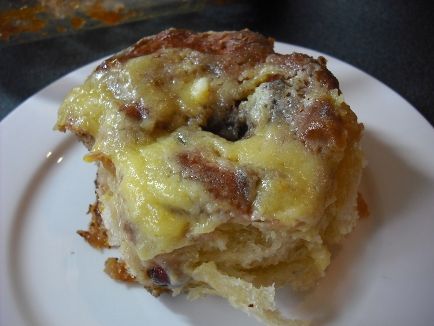 the juice of the orange. After about 30 minutes, when the buns are very nearly baked, pull them out of the oven and spread the glaze over the top, then return them to the oven for another 5 minutes. I got distracted by twitter and left them in for a bit too long, but 5 minutes is really the right length of time.
Allow to cool for about 10 minutes before eating.