We've had two weeks of rain. Now, this is a Good Thing because we are in drought, but on a damp-footed day-to-day level it's a bit of a drag. I know they talk fondly about
April showers
, but these bursts of torrential rain, howling wind, hail, thunder and lightning followed by 10 minutes of bright hot sunshine are very challenging to the wardrobe. Layers come into play (rookie error - I wore a black bra under a white shirt to work the other day, assuming I wouldn't get warm enough to take off my pullover). It makes a girl very much aware that her boots need re-soling and that wet trouser hems just don't dry all day.
It's weather that makes you want comforting, starchy food, but at the same time fresh, zingy summer flavours are calling.
In one 45 minute gap between cloudbursts, we lit the barbecue. Peppers, courgette and salt-rubbed mackerel were soon joined by some wedges of hispi cabbage. Just before the heavens opened again, we whisked it all off the grill, bathed it in a sort of Asian-y marinade of soy, mirin, ginger, garlic and a little sesame oil and got to appreciate a little taste of sunshine.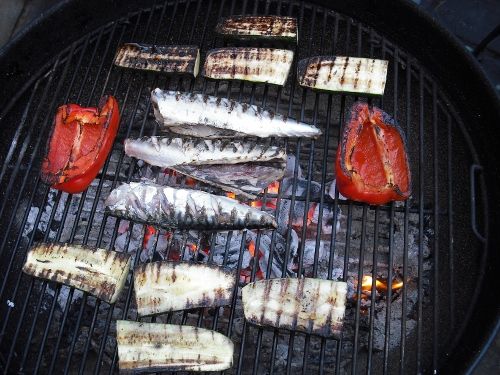 Barbecued mackerel, courgette and red peppers