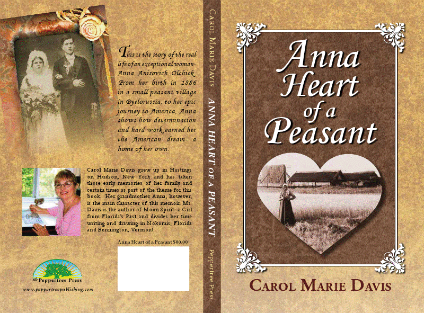 R
achel, the Crispy Cook
, combines being a second-hand bookseller with being a keen gardener and cook. The combination of books and food has led to the hosting of the
Cook the Books Club
, along with
Deb
and
Johanna
, for the last three years.
Through the book club we have read and talked about a lot of books, and cooked a lot of recipes inspired by them. It's a great way to combine passions!
Then, before Christmas, Rachel emailed an exciting extra-curricular book proposal. Rachel's mother, Carol Marie Davis, had written a book about her grandmother and Rachel offered copies to read and be inspired by.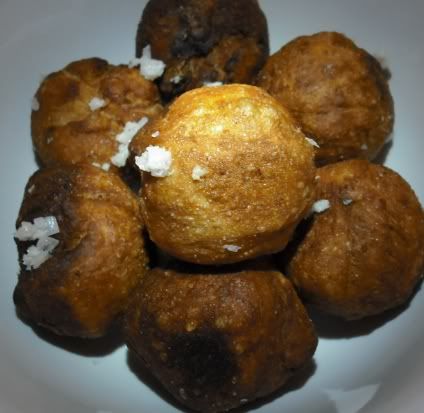 Anna Heart of a Peasant
is a fictionalised biography of Anna Anisovich Olchick, who was born in a village in Byelorussia in 1886 and emigrated to America in 1914. In some ways, it is an unremarkable story. Tens of thousands of our ancestors did the same thing: Paul's left Lithuania for South Africa, mine left England for Australia.
At the same time it is truly remarkable. That an illiterate peasant woman who spoke no English travelled alone across the world and ended up with her own home, garden and flourishing family shows such extraordinary strength of will that it is hard to imagine almost 100 years later. My favourite passages, though, are in the beginning of the book, where some of the folk-beliefs that Anna grew up with are described. They reminded me of some of the Russian folk tales, like the Baba Yaga stories, that I grew up with (not entirely sure why we had books of Russian folk tales, my mother will have to clarify that one).
There are some of Anna's favourite recipes in the book, but I tried to do some wider research into Byelorussian food. This coincided with my
Anthony Bourdain binge
and led to me developing a hypothesis. I couldn't find very much at all online about distinctive Byelorussian cuisine and in the No Reservations episode on Prague several people talked about how distinctive local food had almost disappeared under the Soviet Union. They claimed that all restaurants were only allowed to cook from one cookbook and traditional cooking died out. I have a suspicion that something similar probably happened in Byelorussia from 1939 until Belarus declared independence in 1991.
So I decided to make borscht, as it is found in one form or another all over Eastern and Central Europe. The version we prefer is a thick stew containing meat, carrots and cabbage as well as beetroot, so it is much more luxurious than the soups Anna would have eaten as a child. This one had big chunks of beef short-rib in it and was topped with a dollop of sour cream. I made pampushky to serve with it. Pampushky are like little savoury doughnuts, rolled or dipped in garlic and salt. I actually had some
blaa dough
on hand, so I just formed that into little balls, deep-fried them and sprinkled on garlic crushed with salt, creating what may be the the world's first Irish-Ukranian doughnut. If that isn't a hymn to immigration I don't know what is.