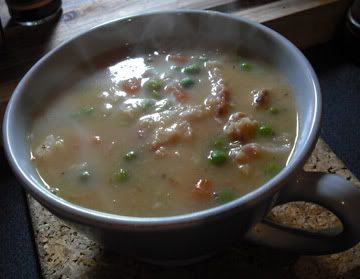 Just a quick one today - inspired by
George at A Nod Is As Good As A Wink To A Blind Horse
.
It's not exactly fast food, because it takes about 4 hours to cook, but those are 4 very low-effort hours! And the rich, comforting flavour makes the time spent well worth it. As an added bonus, it gets really thick when it cools, so it is fabulous to take to work because it doesn't leak all over your lunch bag.
Split Pea and Ham Soup
(makes lots)
2 leeks, washed and finely sliced (or an onion, but I had leeks that wanted using)
2 carrots, peeled and diced
1 smoked ham hock
2 bayleaves
water
500g split peas (yellow or green - in Australia I always used green but I've only seen yellow in the UK)
500g frozen baby peas
Black pepper
In a big saucepan, combine the leeks, carrots, ham hock and bayleaves. Cover with cold water. Bring to the boil, cover and reduce the heat. Simmer for at least 2 hours, more like 3, until the flesh is falling from the ham bone. Remove the ham hock. Add the split peas to the ham stock, cover and continue to simmer for an hour or so until the split peas have completely collapsed to mush.
When the ham hock is cool enough to handle, peel off the rind (most of the fat will go with it) and pull all of the meat off the bone. Cut it into big bite-size chunks (as in, not dainty bites, but still small enough to get them into your mouth) and set aside.
When the soup is a mush, stir in the ham chunks, the frozen peas and a lot of freshly ground black pepper. Simmer another 5 minutes or so, until the frozen peas have cooked through but still retain their fresh, sweet flavour.
Serve generous bowls full.
I think this is definitely one to send to
Deb's Kahakai Kitchen
for her Souper Sunday round-up!