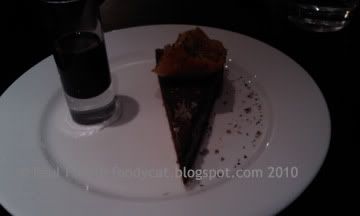 Strangely, our second visit to
The Clarendon
was also
a consolation prize
. For our wedding anniversary recently I'd booked a table at our favourite French restaurant in Covent Garden. And then the night before they'd called me to say that there was a mistake and they were fully booked.
So Paul booked a table for us at The Clarendon. I didn't have my camera with me, so you are just getting one phone picture!
We each started with a glass of champagne. As a starter Paul ordered smoked salmon with preserved lemon and soda bread. I think we were both expecting a couple of slices of bread, on the side of a plate of smoked salmon. The presentation was a bit poncier than that (and not necessarily more successful). Curled rosettes of really lovely salmon were placed about the plate, interspersed with crumbs of soda bread, rosettes of creme fraiche and thin, elegant slices of preserved lemon. The flavours were all there, and were wonderful, but it's bloody hard to pick up breadcrumbs on a fork.
I loved the pea salad with goats cheese fritters so much last time that I ordered the seasonal beetroot version. Then I doubted my sanity because I've been getting beetroot in my vegetable box for the last 6 weeks and I'm sick to death of them. But when the salad arrived, I was at peace with my choice. Tiny halved, pickled beets (I mean TINY - about an inch long), cubes of confit beet, shavings of a raw pink-streaked white beet and a lot of pea sprouts were topped with three hot goats cheese fritters (alleluja! The last time there were only two fritters and it was just plain wrong) and dressed with pomegranate seeds and juice. The pea sprouts were very boring to eat, and took a lot of chewing, and I think the raw beet could possibly have been scrubbed more scrupulously, but the combination of beetrooty flavours and textures with the hot cheese fritters and the fruity pomegranate was just lovely.
We hit a bit of a snag with the wine for our main courses. We ended up having our third choice because the others were all out of stock. Still, it was a very nice Bordeaux that I really enjoyed.
Paul's main course was a venison hotpot with honey roast parsnips, while I had 7-hour roast pork belly with red cabbage and apple and ginger puree. Both dishes were good, but badly overdid the veal demi-glace. The apple and ginger puree with my pork was gorgeous - smooth and tangy, but with an underlying heat from ground ginger. I think I will adopt the idea next time I make an apple sauce.
We'd both spurned potato accompaniments with our mains (we had a wonderful little gem salad with mustard vinaigrette) in order to leave a little bit of room for dessert. Paul had the eccles cakes that I'd so adored the last time (served this time with stilton as well as wensleydale) and I surprised myself by ordering a chocolate dessert. I hardly ever order chocolate desserts! I think chocolate is shown to best advantage in a stand-alone afternoon tea dish or something, and not in a rich dessert at the end of a filling meal when the palate is already dulled by too many flavours. But the waitress showed her only real animation of the evening talking about this chocolate tart, so I thought I really had to. Boy. Oh boy.
What
a dessert! The pastry was very thin and quite crisp, not the shortbready sort of texture you often get with a dessert tart. The chocolate filling was very dark and quite bitter, smooth but not dense and not at all cloying. It was topped with the tiniest scattering of salt flakes. I know salted chocolate and caramel are very chic at the moment, but this is the first time I have had it done really well. It was just the right amount of salt to cut through the chocolate but not overpower it. There was also half of a warm clementine, poached, I am told, for 24 hours, so it was meltingly soft. Again, I'm really not a fan of fruit and chocolate usually, but this combination was sublime. And a shot glass of warm spiced chocolate wine, which brought the flavour of the clementine and the tart together perfectly. It made me wonder why everyone doesn't whisk some dark chocolate into their mulled wine - I think I will try it.
So. Not my first choice of restaurant, and certainly not flawless, but very good and definitely worth a visit for a special occasion.