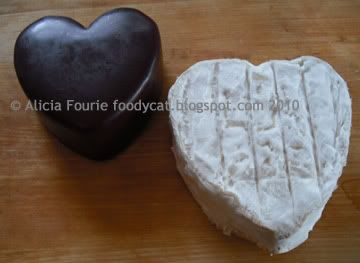 Happy Valentine's Day! Now - what do you give someone who really doesn't care for chocolate? Heart-shaped cheeses.
The black waxed cheese is a
Godminster cheddar
, a raw milk, organic cheese made in the traditional way in Somerset. The bloomy white cheese is coeur de Neufchatel, a raw milk soft cheese made in the traditional way in France. We will enjoy these with some nice wine, a few crackers and possible some lovely fig and fennel paste that I have been saving for a special occasion.
I am extremely lucky to have access to unpasteurised cheeses. The range of flavours and textures that are available in unpasteurised, artisan cheeses just can't be beaten, but it is an experience that is denied to a lot of people. I'm pretty sure you can't get unpasteurised cheeses in the US. In Australia, you can apply for a licence to import them but you can't produce them for sale. Crazy.
Food Standards Australia is looking at a proposal to change the standards for cheese in Australia, and is seeking public submissions
. So I would urge any Australians who would like a chance to buy a locally produced raw milk cheese, and to continue to enjoy imported cheeses, to join
cheese guru Will Studd
(and, in fact, my mother, who gave me the heads up on this) and have a look at what is being proposed and let Food Standards Australia know that these cheesemaking traditions are important and that the products are both delicious and safe.
It's almost time for me to get off my soapbox... but there is one more thing!
You may have noticed that today's photograph has a watermark on it. I'll be experimenting with it a bit until I get one I am happy with. As far as I know, I haven't had any content pinched from my site, but I do know a lot of people who have. I was looking for a recipe online the other day and saw the same picture of a dish, and the identical recipe, reproduced without attribution in about 1o different places. This is not OK. This is a theft of intellectual property. The only recipes I publish on this site are the ones that I developed. The only pictures I use are the ones that either Paul or I took.
This is a very useful article on some ways to combat content theft
but I am still trying to figure out which ones I will adopt. It is a sad state of affairs, but it does seem that anyone who puts any effort into their blogs will at some point be ripped off by someone who is too lazy to do their own work. Please help fight content theft.
... and I'm done. I'll have a post involving more food and less politics soon, I swear!