Actually, our Burns Supper wasn't at all belated, just my posting about it is! While we don't do the poetry and toasts and pagentry, we do use the 25th of January as an excuse to eat haggis. Because it tastes good and contains about a million calories (or, in fact, 300/ 100g), so is an occasional treat and therefore needs an excuse.
Instead of buying a whole, traditional haggis, this time I bought a 200g section of a "haggis pudding", packed like a black pudding in a plastic skin. This suited my purposes perfectly. I divided the haggis in two, and pressed each portion into a big, flat portobello mushroom and roasted it in the oven until the mushroom juices were flowing and the edges of the haggis were crisp but not too dry.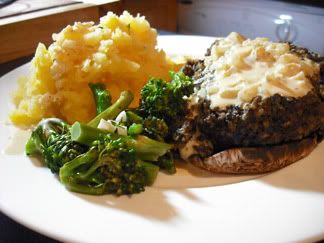 I served it with bashed neeps (mashed turnips - which are what we Southerners call swedes) flavoured with a little butter and a lot of nutmeg, broccolini and a whiskey sauce. The whiskey sauce is a bit contentious; apparently only tourists would eat haggis with a whiskey sauce. Well, sometimes I am a tourist, and the sauce tasted good so I am not ashamed.
Whiskey Sauce for haggis
(or steak or chicken)
1 tsp butter
1 shallot, finely diced
1/4 cup whiskey
1/2 tsp dijon mustard
2tbs double cream
Melt the butter and add the diced shallot. Saute until transparent. Add the whiskey and allow to reduce by half. Whisk in the mustard and cream. Do not allow to boil again.
Since we were already doing an "occasional treat" meal, I also made a dessert. Now, I found a couple of recipes for something called Edinburgh Fog - basically amaretti biscuits with boozy cream - and I decided to make it into a Scottish-influenced version of Eton Mess (broken meringues, strawberries and whipped cream) .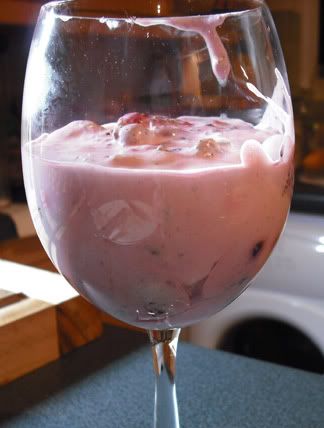 Fettes Mess
(serves 2)
1/2 cup amaretti biscuits, broken into pieces
2 tbs whiskey
1 tbs honey
1 cup raspberries (fresh Scottish ones in summer - these were frozen)
1/2 cup double cream
Whip the cream to soft peaks, fold in the other ingredients and divide between 2 glasses. Allow to chill for a couple of hours before serving.