After my
last attempt at cheese
,
Natashya from Living in the Kitchen with Puppies
invited me to join her this month in
Forging Fromage
. And this month, the challenge was that delicious, squeaky, Indian curd cheese, paneer.
Now, the very first thing I have learned about making cheese is that white cheese on a white cheesecloth on a white plate plays merry hell with the automatic white balance on my camera and sends nearly all pictures to shit.
So I don't have a useable picture of the curds in the saucepan, the curds draining in the cloth or hanging in the jug. So you'll have to take my word for it that those things happened. The first picture I have is after I turned the pressed cheese out ready to eat.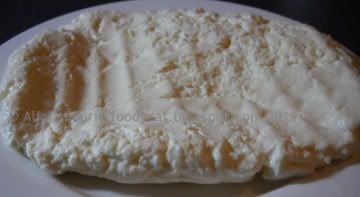 I followed the recipe from
Mirch Masala
, reposted on Forging Fromage, but I also watched this fantastic
YouTube tutorial from Show Me The Curry
. It was all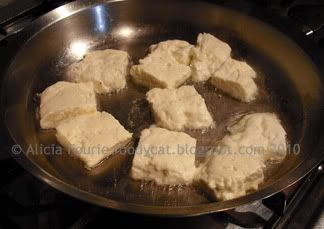 ridiculously straightforward, but from the ladies at Show Me The Curry I took the idea of suspending the curds in a jug, to let the weight of the curds themselves help drain them, and the jug catches the whey, Nifty, huh?
I only used 1 litre of milk for my paneer - if it all went tits up, I didn't want to have mounds of curdled milk, plus I had a very specific intention for my paneer and I didn't need a lot for it.
After 12 hours of pressing, I was a bit apprehensive because the cheese was still quite soft. Maybe the jar of sauerkraut I was using as a weight wasn't heavy enough. It was, however, firm enough to slice into pieces, and toss in cornflour in order to fry it and make chilli paneer.
It was actually my quest for a chilli paneer recipe that got me on my
intellectual property jag
. Do a search for chilli paneer recipes. Do those pictures all seem remarkably similar to you? Can you figure out where it originally came from? And adding insult to injury, the recipe that goes along with it isn't always the same recipe!
But what I wanted was a recipe that was going to turn out like the one at my favourite Indian restaurant, Sahibs. And
this recipe
looked to me like it would fit the bill. The presence of soy sauce in it is something that surprised me the first time I tasted it at Sahibs, and the green pepper in it also made me think I was on the right track.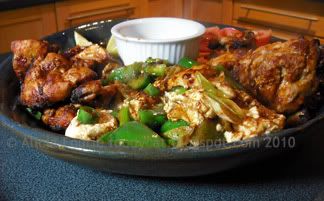 My paneer held together well as I coated the slices well in cornflour, and submitted patiently to being turned in the frying pan. Despite the slightly custardier texture when it was finished, it still had a bit of the chewiness and bite that commercial paneer has. It was lovely! I'm not sure that there will be a next time though. I think to make it worthwhile, you really do need to do at least 2 litres of milk, and that would still only make enough for a main course for two people. On the other hand, the texture of home made paneer would be just the thing if you were making
rasgulla
. So, never say never...