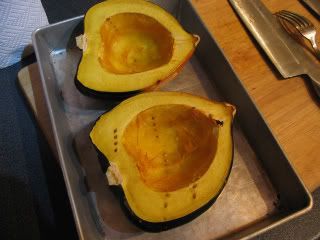 This month's
Foodie Joust
challenge was set by Susan from
Sticky, Gooey, Creamy, Chewy
after she nailed the October joust with an amazing
gorgonzola, pear and fennel tart
.
And her three ingredients for this challenge were
acorn squash
, orange and sage.
This took a lot of thinking about! I couldn't remember even seeing acorn squash before, let alone eating one (although it turns out they stock them next to the butternuts in the supermarket, so I clearly wasn't looking too hard before!).
I had a few ideas but I couldn't really figure out how to marry up the orange and the sage.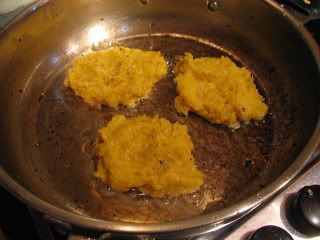 In the end I decided to make a squash fritter and flavour it with orange zest and dried sage.
In Italy you get a nut meringue biscuit called
brutti ma buoni
- which means "ugly but good". I decided that it was a pretty good description of my very delicious but not beautiful fritters!
Squash Fritters "Brutti ma buoni"
1 acorn squash, halved, seeds removed
slosh of olive oil
1 onion, finely diced
1/2 tsp dried sage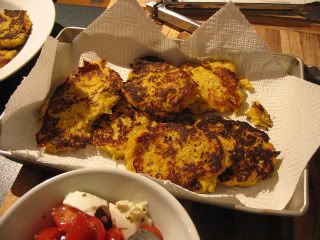 Finely grated zest of an orange
1/2 cup panko breadcrumbs
2 eggs
salt & pepper
oil for frying
Bake the squash in a 180C oven for 1/2 hour or until a fork pierces it easily & allow to cool. When it is cool enough to handle, scrape the flesh out into a bowl and mash with a fork to a rough puree.
Sautee the onion in the olive oil until translucent, then add the sage and stir a minute more to get the oils coming out of the dried sage. Allow to cool and then add to the squash along with all the other ingredients. Shallow fry spoonfuls of the mixture on both sides until well cooked. Makes about 10 fritters.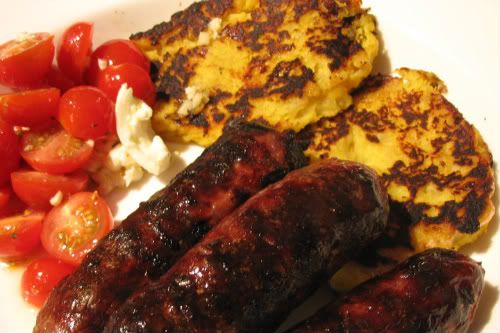 The first night we had these with some delicious wild boar and apple sausages, and a simple tomato mozzarella salad. The sweetness of the squash with the earthiness of the sage and the highnotes of orange zest were just perfect with the meaty sausages.
The next night we reheated the leftover fritters and had them with venison haunch steaks and an edamame bean salad, and again they were a great accompaniment. I think they would reach new highs with pan-fried duck breasts, or as a breakfast dish with some thick slabs of crisp bacon. So. Not pretty, but very, very good!