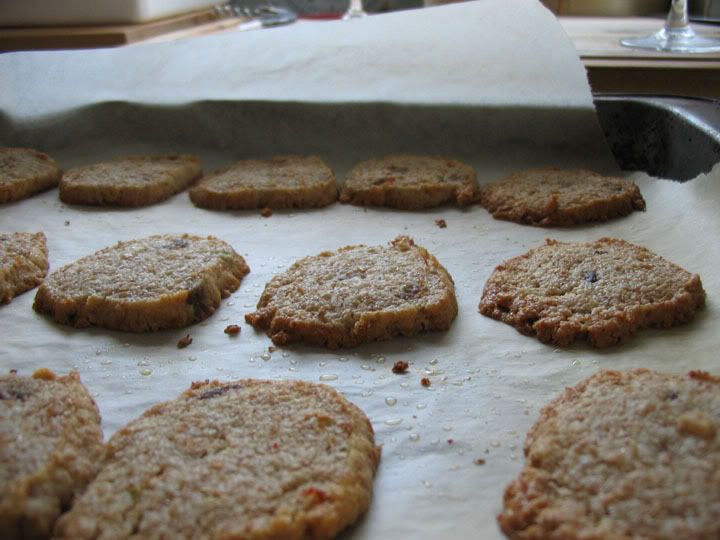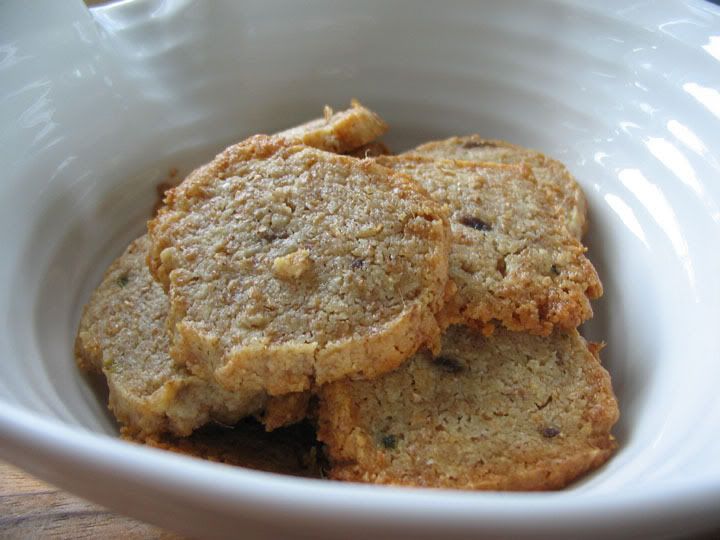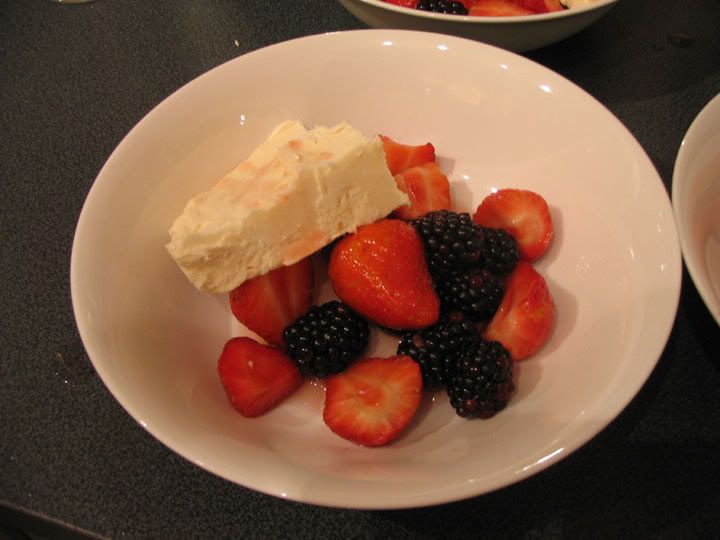 It is a Bank Holiday weekend - hurrah! I've seen some theories about why long weekends are called Bank Holidays in Britain, and they aren't very interesting. But a long weekend means more time to do stuff like sleep and cook and eat.
We had friends over last night and decided to take advantage of some good weather to make a really delicious seasonal menu. OK, so the
anchovy chilli biscuits
we kicked off with aren't particularly British, or season specific, but they are originally a Rowley Leigh recipe and he's British enough to qualify. I've tweaked the recipe a bit. I always use wholemeal flour (the nuttier flavour is good), 2 red and 2 green chillis (because they are prettier) and grated parmesan (I found the gruyere made them a bit greasy). And I roll the pastry into a log and cut it into thin coins instead of strips. It actually freezes really well, so most often I will cut and bake half the log and store the rest for a little treat another time. We ate these when they were still a little bit warm, with glasses of chilled cava. Doesn't get better, really.
My husband BBQd an enormous
Sussex-reared
rib steak as the main course. 2" thick, on the bone, it looked like something the Flintstones would have served. It's a pretty impressive way to BBQ; carved on our nice blackwood carving board, there is enough variation in done-ness to suit all tastes. I didn't get a picture of that one, I was too busy making salad (a bag of herb salad mix, some marinated artichoke hearts, an avocado in a lemon and garlic dressing) and finding cutlery. We had chargrilled asparagus too.
For pudding we had British berries (strawbs and blackberries) macerated in a little cointreau and icing sugar and served with a mascarpone and bitter orange semifreddo. I made the semifreddo as a bit of an experiment and it was brilliant, if I say so myself. With electric beaters I whisked a whole egg and a heaped teaspoon of icing sugar to a pale, stable foam, added 1tbs cointreau and 2tbs bitter orange marmalade (you knew there was going to be marmalade in there somewhere, didn't you?) and then folded through 250g mascarpone. In a box, in the freezer. I took it out of the freezer about 5 minutes before serving so it softened enough to slice nicely, and drizzled the juices from the berries over the top. Taste of early summer!