Last week was
British pie week
. Twitter, the
newspapers
and my fellow
bloggers
gave shout-outs to the magnificence that is the British pie - and believe me, a good British pie really is magnificent - but I just wasn't feeling it this year. In fact, I realised that I missed it last year too, and 2010 was the last time I celebrated
pie week
(and even that was tentative).
This hasn't been through any disillusionment with pies. Certainly not. Last year, I adopted
Pi Day
instead, and this year, as well as being tickled by the nerdy beauty of
π
,
I was craving Australian, not British pies.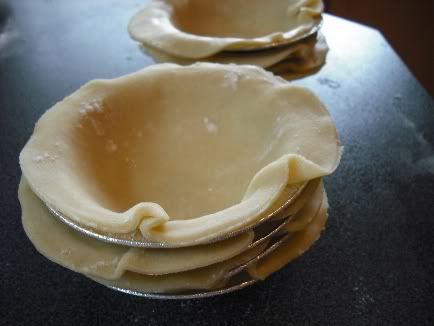 I don't know what it is, but there is something about the Australian meat pie that British versions just can't get right. It needs to have a very simple, savoury filling, with enough gravy to be moist but solid enough to eat without making a mess of your shirt, face or hands. The pastry needs to be flaky but still providing stability. It doesn't have to be eaten at the football, but it needs to remind you that you could if you wanted to.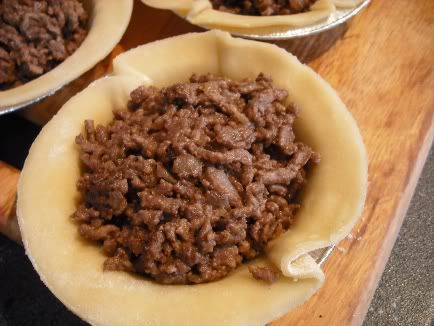 So I tooled up with some 4 1/2" foil cases (really cheap on ebay) and some beef mince and got under way.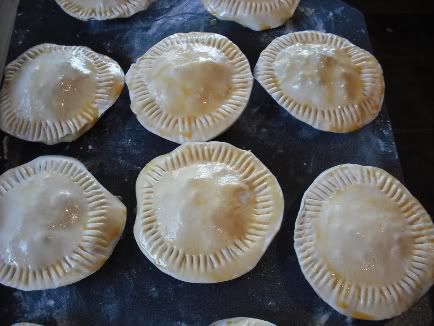 I wanted to make a good sized batch, and freeze some, so that the next time I had this sort of craving I was in a good position to feed it. I got pretty damn close to perfection, too, with the right balance of pastry, which was sturdy enough to eat out of hand, and a substantial filling.
Proper Aussie Meat Pies (makes 12 generously filled 4 1/2" pies)
splash vegetable oil
800g beef mince (around 10% fat)
1 large onion, half grated, half finely minced
3 tbs beef gravy paste (I used
Colmans
)
splash water (about 1/4 cup)
splash worcestershire sauce
1/2 tsp ground white pepper
1/2 tsp ground black pepper
1 500g pack puff pastry
1 500g pack shortcrust pastry
1 egg, to glaze and seal
In a large

sauté

pan, cook the onion until translucent, then add the mince and brown well, breaking it up as you go. The aim is for quite a fine-grained filling, not lots of lumps. Add the gravy paste, water and seasonings and cook to a thick stew. Allow to cool completely.
Roll the shortcrust pastry thinly (about 2-3mm) and use a saucer to cut out circles. I cut the block of pastry in half because I don't have a work surface big enough. Use the circles to line 4 1/2" foil pie dishes. I stacked the lined dishes to help make sure the pastry was pressed in properly.
Fill the lined dishes with a couple of heaped tablespoons of the cooled beef mince filling.
Brush the rim of the pastry with a little beaten egg, and top with a circle of rolled out puff pastry. Use a fork to crimp the edges, then glaze with more beaten egg. Decorate with the mathematical constant of your choice (I used a toothpick to draw
π).
The pies can either be baked immediately, at 200C for 15 minutes, or frozen and then baked from frozen for 35-40 minutes.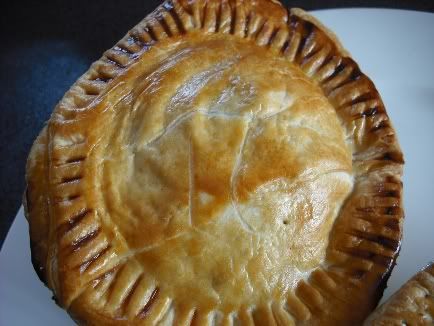 It wouldn't be the proper Australian pie experience without tomato sauce.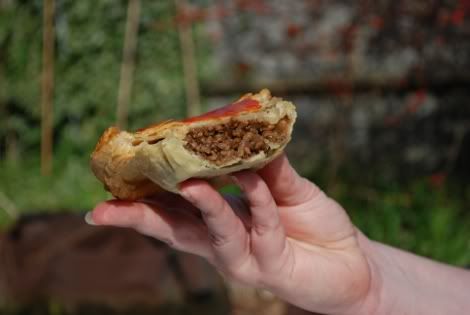 I think my next challenge will be the much smaller Party Pie, without which no Australian birthday party is complete.