We're still trying to vary the types of seafood we eat and to make sustainable choices. These lovely mussels were simply cooked with wine, garlic, tomatoes and parsley for a very quick supper.
There is something more that you can do to preserve our fisheries than making informed purchases when you shop.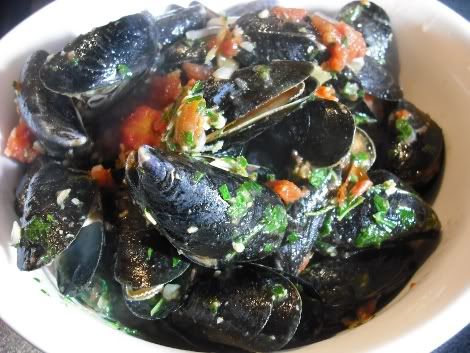 On Monday, the Fisheries Ministers from the 27 member states are meeting in Brussels to decide the future of the discards ban - and apparently the French minister is going to try to get it blocked. Richard Benyon, Minister for the Natural Environment and Fisheries has been quite strong on calling for the ban on discards, although his mention of "appropriate timelines" could be weasel words toeing the line with the
Environment, Food and Rural Affairs Committee arguing that the ban should be delayed until 2020
. You can tell all the Ministers that you support the ban on discards, and a sensible, sustainable, reformed Common Fisheries Policy, by using
this nifty twitter tool
. This is a
Big Yellow Taxi
moment - please don't let the ban get blocked.