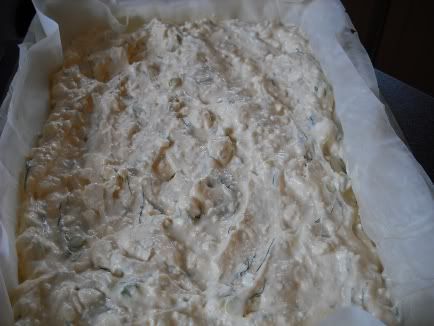 I hope that a Greek person will immediately recognise this as tiropita, but I wasn't aiming for authenticity when I made it. I just wanted to make something with phyllo pastry and a creamy, cheesy filling.
Half way through beating the filling, I had a sudden memory of the divine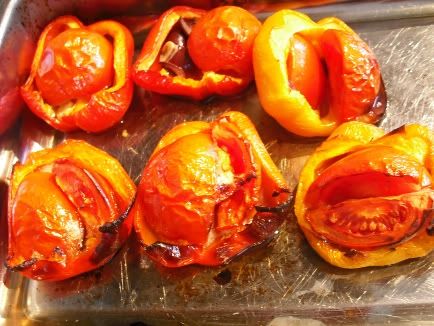 spicy cheese dip htipiti, which I first encountered in Joanne Weir's wonderful book From Tapas to Meze. A sudden yearning for spicy cheese sent me lunging for the bottle of smoked chilli sauce, and a goodly measure was applied to the filling.
To accompany my cheese pie, I decided to stick to my mostly-Greek theme and stuff some peppers. The Greeks do love their yemista! Instead of the typical substantial Greek fillings though, I based mine on the Piedmontese peppers popularised by Elizabeth
David, Delia Smith, Jeremy Lee, Simon Hopkinson (and pretty much
every other British food writer) and gave them a bit of a Greek twist.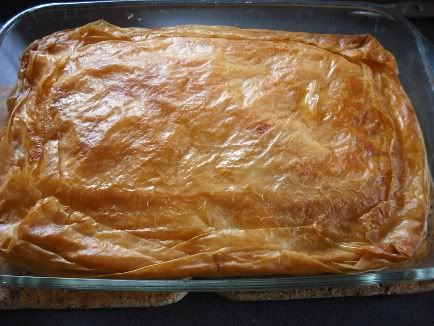 So, unusually for me, today I have two delicious, meat-free recipes to offer you. They work extremely well together and are equally good served warm or at room temperature. It's also quite economical to make these together because they cook for the same length of time and at the same temperature, so they can happily share space in the oven.
Peppers στο πόδι του βουνού (babelfish assures me that this is the translation of "at the foot of the mountain" - which is what Piedmont means - I look forward to hearing from Greek speakers what I actually just wrote)
3 small red or orange peppers
Halve the peppers lengthwise and put in a baking dish. Fill each half with 2 olives, cut in half, a pinch of oregano, a squeeze of lemon and a couple of slices of garlic, then nestle in a half or quarter tomato (depending on size) and a drizzle of olive oil.
Bake at 180C for 45 minutes.
Mostly Greek Feta Pie (makes 6-8 portions)
600g feta (if it ain't Greek, it ain't feta)
4 spring onions, sliced finely
Handful of fresh dill, chopped
slosh of chilli sauce, to taste
Make the filling first, by simply crumbling or mashing the feta with a fork and adding the ricotta, eggs, spring onions, dill and chilli sauce.
Brush a lasagne dish with melted butter, then layer half the pastry in, brushing between layers with more of the butter. Work quickly, so the remaining sheets of pastry don't dry out.
Scrape the filling into the pastry, then top with the remaining sheets, again brushing with butter in between layers. Fold any sticking-out bits in neatly and brush with more butter.
Bake at 180C for 45 minutes, then allow to cool for 10 minutes before cutting into portions, to allow the filling time to set a bit.