Bánh mì
are having a moment right now. Or they have been for the last few years, but I am just now getting aboard the Bánh mì love train. There are only so many variations you can see on blogs, so many reviews of Bánh mì-specialist cafes and food trucks that you can read before you throw your hands in the air and cry "Enough! I will make this bloody sandwich".
But not any sandwich. This is the ultimate sandwich. It provides the most exquisite balance between crisp, soft, dry, moist, sharp and smooth. It is a sandwich developed by people who think food should be a pleasure. It is a very fine sandwich indeed.
For my Bánh mì I started with a couple of part-baked baguette (and completed the baking thereof). I applied a goodly base-layer of mayonnaise. I smeared a layer of pork pâté. I placed batons of cucumber. I added warm medallions of sweet cooked pork (following the recipe in my
Spirit House
cookbook). I topped with pickled beansprouts and beetroot. I applied a final garnish of coriander leaves.
Very generously filled sandwiches! But through sheer greed, I could have eaten another.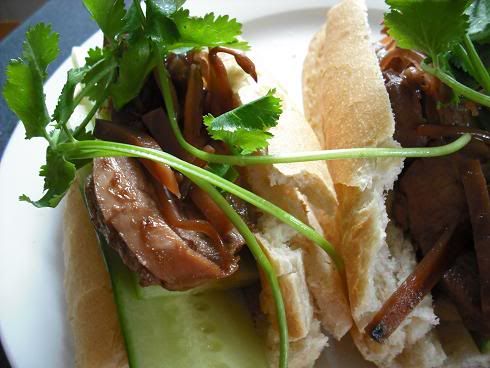 This lovely sandwich is going to
Deb's Kahakai Kitchen
for her Souper (soup, salad and sammie) Sunday round-up.