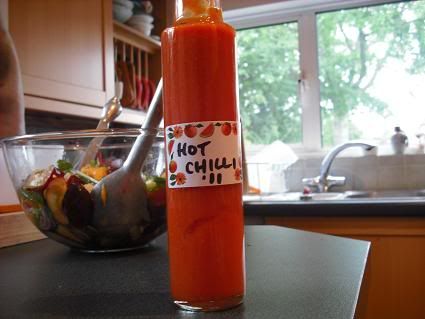 At the end of last winter, we gave one of our
Twilight chillis
to friends. They had grown too big to have two, and we figured that one would fulfill our hot chilli requirements.
The remaining plant was repotted,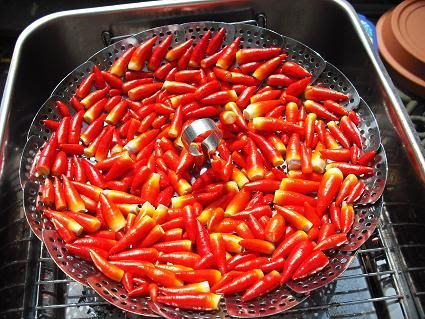 pruned, and Paul started fertilising it in preparation for the 2011 growing season.
I'm not quite sure what he did, but it works! The top of the canopy now measures 180cm across, and it is covered in glossy, upright chillis. It sort of looks like one of those big acacias in Africa that gets nibbled to shape by giraffes.
The chilli sauce recipe that I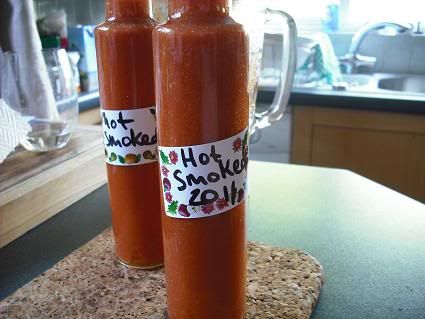 developed last year was so good, this year's entire crop will be going into it. Half will be smoked over beech chips and half left plain. I've made two batches so far. Picking the ripe fruit only seems to make it more productive, so I think our hot sauce needs are taken care of!
My smoked sauce is standing as my entry for the
August Forging Fromage
challenge - instead of the habanero hot sauce recipe given. Why buy habaneros when you have an endless supply of Twilights?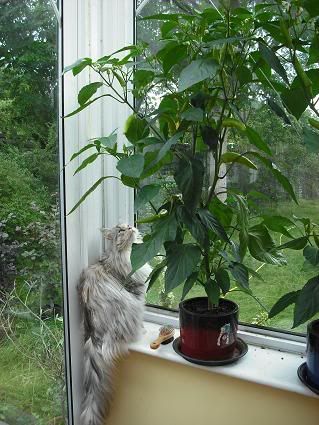 We'd also decided that we really needed a milder chilli, that we could use more freely, like a vegetable.
After a bit of research we settled on the
Hungarian Hot Wax
, which seemed like a versatile cultivar. Our two seem to be slightly larger than the 70cm plants we were anticipating... which again I have to put down to Paul's diligent fertiliser regimen. They are getting thrice-weekly feeds with tomato fertiliser, and they seem pretty darn happy on it.
When they get a bit riper, we're planning to pickle some of them like jalapenos. We also have (possibly delusional) thoughts about smoking and drying some fully
ripe ones to use like pimenton, although I am not convinced that Hertfordshire has the right climate for drying chillis.
Our first outing for them, however, was stuffing them with garlic and herb cream cheese, wrapping them in bacon and grilling them. Gorgeous. Very "green" tasting still, but with a nice gentle warmth at the stem end where the membranes are concentrated. Definitely a useful chilli.