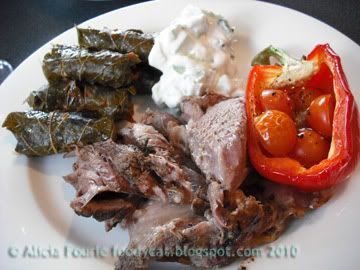 I've got several bundles of vineleaves in the freezer, and just lately, every time I have opened it, they have been taunting me and demanding that I make some dolmades. So I did.
Brown Rice Dolmades
1 cup brown rice
3 cloves garlic
2 tbs pinenuts
2 tbs green olive tapenade
1 tsp dried dill
Zest and juice of a lemon
Olive oil
1 cup tomato passata
preserved vine leaves
Parboil the rice until almost cooked. Combine the rice with the chopped garlic, pinenuts, tapenade, dill and lemon zest. Taste for seasoning. Roll up in vineleaves - this quantity made about 24 tiny wee ones.
Place a good glug of olive oil into a heavy-based pan, and layer the dolmades up with the lemon juice and the tomato passata, then add another good glug of olive oil. Cover and cook gently until the leaves are tender and the juices are almost all absorbed. Serve at room temperature.
We had them with
kleftiko
(made with a small shoulder of mutton), tzatziki and some red peppers stuffed with cherry tomatoes & garlic. καλή όρεξη !