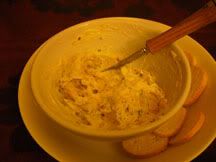 And we return to our scheduled programming.
As you can imagine - we had a lot of smoked trout on hand. We came home late the day after we smoked the trout, having had a pretty large lunch. We didn't want an actual meal, but a little snacky something to go with a glass of something.
Smoked trout, flaked into a tub of herb & garlic soft Philly, and a bag of toasted bagette slices. Just the thing.