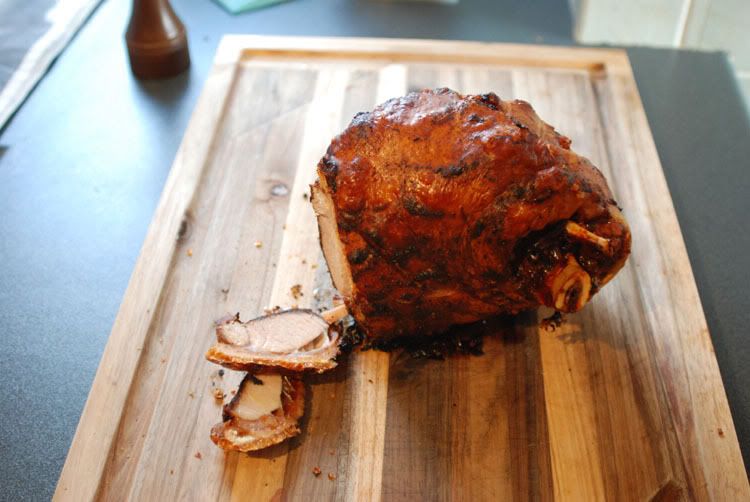 We had another
big joint of meat
in the freezer. A 2.5kg leg of
"iron -age" pork
that we would never be able to eat by ourselves.
Fortunately we have a pair of pork-eating friends to invite for lunch. I decided to try Nigella's method for a 24-hour
Aromatic Shoulder of Pork
- giving it 14 hours to accommodate the fact that the leg was much smaller than the shoulder called for in the recipe.
Divine. Absolutely gorgeous. The meat wasn't at all dried out and the crackling was just amazing. Next time the only thing I would do differently is dispense with the aromatic rub. After that long a cook it contributed nothing to the flavour. I served it cut in thick slices with roast butternut and microwaved baby corn and sugar snaps.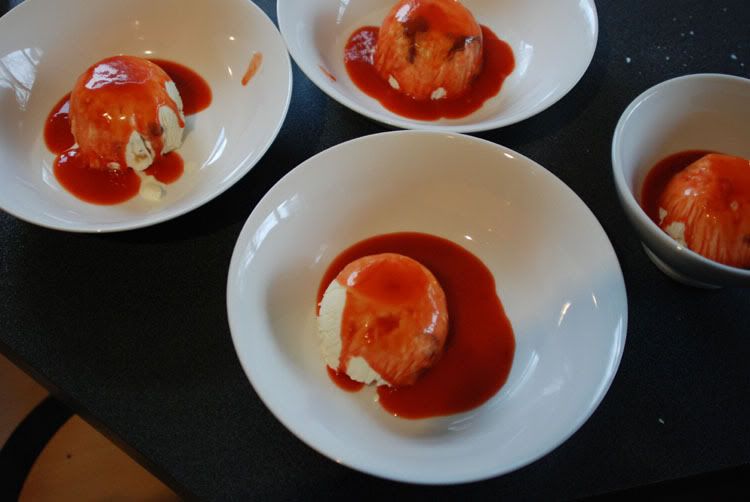 For dessert, I decided to go low-effort but impressive.
The day before, I bought a tub of good-quality white chocolate icecream, softened it slightly and pressed it into ramekins lined with clingfilm. I pushed a teaspoonful of seville orange marmalade (the last of the store-bought) into the heart of each one, taking advantage of the fact that slow-cooked sugars freeze weirdly and stay a bit plastic. Then I tucked them back into the freezer to wait... To sauce them I reduced a cup of blood orange juice by half, then added a dab of butter and a little cornflour, slaked with a touch more juice, and cooked it for a few minutes until it had thickened nicely. The hot sauce cooled very quickly in contact with the icecream, but the flavours were delicious. If I hadn't been cooking for teetotallers, I would have added some brandy or Cointreau to the sauce.