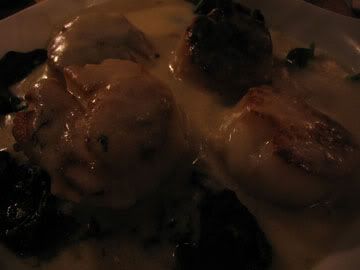 The food at this month's wine dinner had a French theme, matched to Bordeaux wines. In the time that we've been attending these dinners at the Rose & Crown - about 18 months - they have improved so much! The food is good, the matches are good and the service is smooth. Just about all you could ask for at £30 a head really.
The appetiser was Scallops Gratinee, served with a 2007 Chateau La Freynelle Sauvignon Semillon. The presentation was very appetising - a shallow gratin dish with a bed of spinach and 4 extremely plump scallops for us to help ourselves from. There is something very cosy and hospitable about getting to serve yourself family-style in a restaurant. The bechamel was subtly seasoned so it didn't detract from the sweet scallops and it wasn't too rich either, which was a good thing given what was still to come.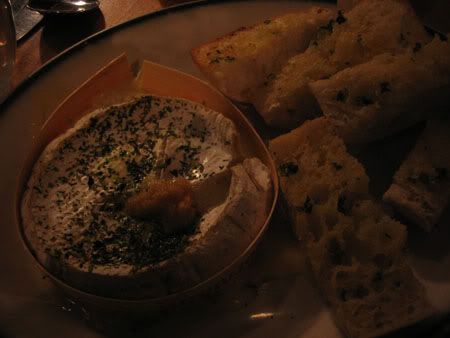 The wine - a blend of semillon, muscatel and sauvignon blanc - was perfect. Very light, very crisp and yet not so sharp that it jarred against the mellow scallops. A great start to a meal.
As the next course we had another shared dish - a whole baked camembert to share. Don't your arteries just harden at the thought? The cheese was topped with a puree of wonderfully caramelly baked garlic and came with just the right number of fingers of garlic foccacia to spread it on. The 2005 Chateau des Gravieres Collection Prestige merlot/cabernet stood up to this surprisingly well. I would have expected the wine to feel a bit thin after the mouth-coating richness of the melted cheese, but it had sufficient butteriness to stand its ground.
The main course photographed horribly, so I spared you. It was boeuf bourguignon with potato gratin and green beans. Now to my mind, if you are making a beef stew, it really has to be shin. You need a cut of meat with quite a lot of connective tissue that is going to melt during the slow cook and lubricate the meat. In this stew the flavour was wonderful but they had used too lean a cut, so although the meat was spoon-soft, it was quite dry on the tongue. The 2006 Chateau Pey La Tour Reserve served with it (another merlot/cabernet blend, but in a very different style) was again just the thing for the dish.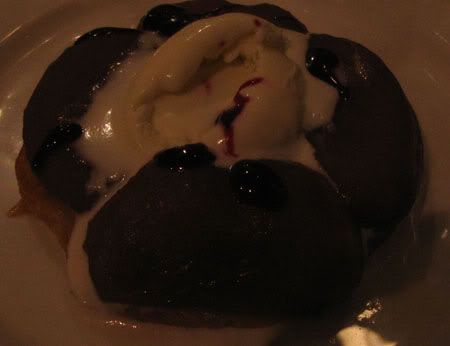 For dessert, a tarte tatin with vanilla icecream was accompanied by a 2005 Clos Dady Sauternes. My mother (sometimes with help from me) has been known to serve tarte tatin with Chateau d'Yquem, so I know what a magic combination it can be. This was good (but not as good as hers). I insist that puff pastry has no place in a tarte tatin - it must be a rich shortcrust - and if you have done the caramelising right the combination of butter, sugar and apples needs no other adornment. It really is a dessert that is better made at home. I think the apples for this had been poached in a spiced syrup - which was very good, but not as luscious as the way we do it.
Amazingly I could still walk after all that, but I was quite glad to walk out into the cold night air to wait for a taxi.
We're missing the next dinner - Champagne on New Years Eve - but we're booked for the one after that at the beginning of February. I am looking forward to another great year of wining and dining!