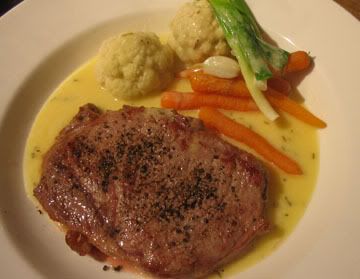 I don't know if it is the descent into winter or the descent into recession, but for some reason I have been bombarded recently by fondue recipes. I love fondue - the cheese type. I think chocolate fondue is an abomination against god and I have never had a good meat fondue. But cheese fondue is an all-time comfort food.
In our family fondue has always been made with cheddar (apparently due to difficulty accessing gruyere and emmenthal originally, and then out of preference) with fresh rosemary, garlic and white wine.
But the problem is that these days I feel immense reluctance to make a whole meal from bread and melted cheese. I find it a bit indigestible too, even if I have a nice herb tisane afterwards.
My recent success with the
pear & camembert salad
made me think differently about fondue. Why have it as the main event, when a tiny portion could garnish some steamed vegetables as a sauce?
So white wine ( I used 75ml chardonnay) with 2 cloves of garlic, smashed a bit but not crushed, and a sprinkling of dried rosemary came to the boil in a little saucepan and then sat off the heat for 15 minutes. When the time came to eat, I returned the saucepan to the heat and added 50g grated mature cheddar and stirred until it melted. At this point I should have added a little cornflour slaked with kirsch or wine, but I didn't. But given my time over I would - it binds it and thickens it slightly.
My fondue went over steamed baby cauliflowers, leeks and carrots, with a steak. It was delicious. It filled the kitchen with just the right smell of my childhood, and gave me the flavour I was after and was incidentally fantastic with the vegetables. Cauliflower cheese may never be the same again.