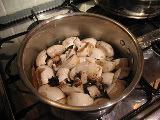 Rachel at
The Crispy Cook
, Deb at
Kahakai Kitchen
and Jo at
Food Junkie not Junk Food
have joined forces to present a brilliant new food blogging event -
Cook the Books
. It's an online bookclub where - in addition to the normal bookclub features of talking about the book and drinking wine (although that might just be me...) we cook something inspired by our reading.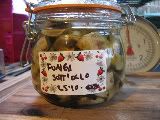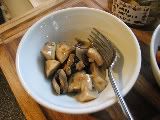 The first book off the ranks is
La Cucina by Lily Prior
. Murder, magic realism, quite a lot of sex and fantastic food in a Sicilian setting. A lot of the dishes that Rosa makes are rather more involved than was feasible for me. And the gorgeous, deeply flavoured sun-dried tomato paste that she and L'Inglese concoct so painstakingly requires rather more sunshine than you get in Hertfordshire in November.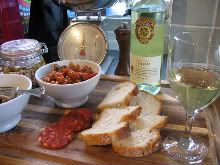 I was particularly moved by the passage where Rosa transforms her grief over Bartolomeo into a houseful of food. She recounts all the different preserves and dishes which inspired me to have a go at preserving mushrooms - fungi sott'olio. I mostly followed
this
recipe but I used cultivated chestnut mushrooms and a handful of dried wild mushrooms instead of fresh wild mushrooms (which are a bit out of my price range). They only got a week to stand before I served them as part of a La Cucina-inspired Sicilian antipasto.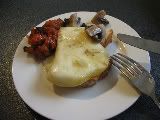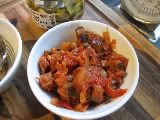 Some salami (store-bought, Calabrian with a lovely strong fennel aroma); some caponata, seasoned with cinnamon, sugar, white wine vinegar and capers; a bottle of fiano, which you would think would be overwhelmed by the vinegary flavours of the other dishes but stands up to it well, and some fried cacciocavallo cheese on rustic bread. The cheese, fried with garlic and oregano and sprinkled with a little white wine vinegar before scooping onto the bread, was delicious.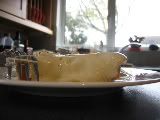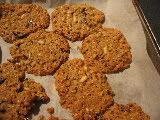 As a dessert, I made some pinenut and chocolate macaroons, taking some of the characteristic flavours of Sicilian food and turning them into a delicious, chewy biscuit. I started from
this
recipe but used 20g of chopped 70% chocolate instead of the cocoa, and 100g of demerera sugar instead of the caster sugar, and 1 whole egg.
Note well - do NOT attempt to get them off the baking sheet until they are completely cooled or you will end up with the crumbled mess on the left. Still - it was useful as a cook's perk. I intended to serve these with a bottle of aleatico - red Italian dessert wine - but they were so good with a cup of tea that we didn't get that far.