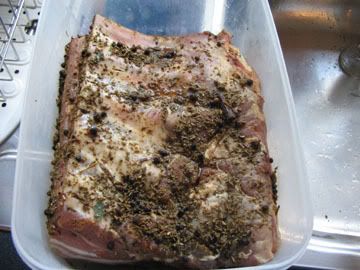 You may recall that a couple of months ago I
made bacon
. It was a huge success and made me much beloved of my husband. Until we ran out. So for the sake of my marriage I had to make a second batch.
The cure I used before was fantastic, so I made no changes to that (except I pounded the spices in the mortar and pestle because my darling mini-processor went to appliance heaven during my
pinenut macaroon
experiment).
What I did differently was smoke it. Paul was given a smoker for Christmas about 7 years ago and has never taken it out of the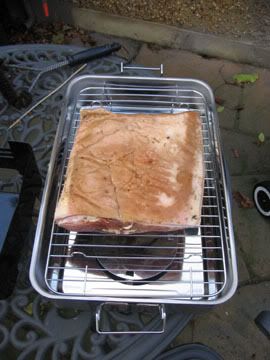 packaging, so I decided that the time had come.
Turns out that it is a pretty nifty piece of equipment. And it occurs to me that I could use it to make the mother of all fondues...
A pair of spirit burners sit in a rack, with a tray sat over it. Smoking dust (fine wood chips - in this case oak) go into an indentation in the tray, a drip tray covers the dust to avoid flares and then a rack goes over that, the cured, rinsed meat goes on the rack, a lid clips over all and in 2 hours (as my crazy aunt used to say) Bob is your aunty's live-in lover.
This is hot-smoking, so you are heating the meat at the same time. Cold-smoking (like for smoked salmon) is a trickier proposition involving all manner of piping and whatnot. But because the pork-belly is a big, thick piece of meat it certainly wasn't heated to the point of being cooked (if we'd been doing fish fillets they would have been well cooked).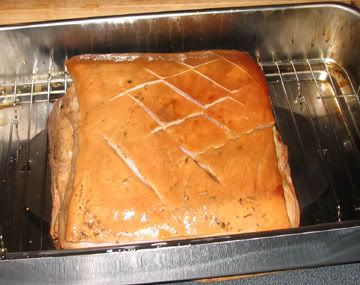 The downside to this method is that it didn't "set" the protein as well as the slow bake in the original recipe did. So it was a real bastard to get the rind off and debone it. And I ended up with very thick, ragged slices instead of tidy little rashers like my previous effort.
Next time I will certainly smoke it again - the flavour penetrated beautifully - but I will debone and remove the rind before it goes into the cure, and probably smoke it for longer.
Stay tuned for the next episode "How I used the bacon"...