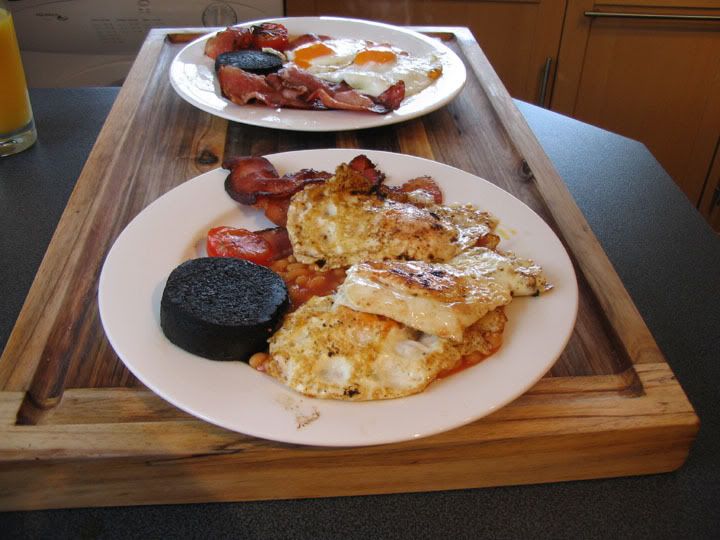 This week the Times decided to get all silly and try to provoke controversy by publishing a debate on the
Full English
breakfast. Now, I love Giles Coren; I read his reviews with eagerness every weekend and take heed of his opinions. But he has Gone Too Far in denouncing the Full English Breakfast.
It isn't something for every day. In fact, I don't think it is something for every weekend, but it is a lovely occasional treat. I think the one I have just finished eating was an excellent example of the genre, too.
The thing that looks like a hockey puck is, of course, lovely Scottish black pudding, fried until crunchy on the outside and meltingly tender in the middle. Outdoor-reared, dry-cured smoked bacon. A fried tomato (only a tiny half - I thought I had more than that in the fridge). Heinz baked beans (warmed through with a shake of Tabasco). Fried eggs - sunny-side down for my husband, sunny-side up for me. Perfect.
I'd normally do some fried mushrooms as well, but somehow we have run out. We never have toast/fried bread/saute potatoes with it when we have it at home, because with all the rest on the plate you just don't need it, and there is no one to care if you lick your plate to get the last bit of eggy baked bean sauce.