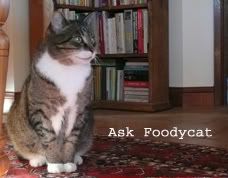 I've been thinking about this post for months. My friend
Ms Crankypants
emailed me the link to this article
asking whether cookbooks are obsolete
, and asked for my thoughts.
My immediate reaction was Hell No! But I thought I should come up with a well-reasoned and scholarly argument for my position. The difficulty is, of course, that I fucking love cookbooks, which puts me in a compromised position for well-reasoned arguments. If you have a short attention span you can skip to the end, with the good bit about the cheesecake, safe in the knowledge that my final answer is still a resounding Hell No.
I do appreciate the notion of a paperless office (although a decade or so working in offices demonstrates that there is really no such thing). I do, however, genuinely grasp the idea that it might be pleasant to reduce the amount of clutter in one's life and have all the cookbooks scanned onto the computer. I would like to offload some of my cookbooks, although I confess it is just to make room for the ones that currently sit in piles on the floor.
I don't know what the average number of cookbooks is that the average family owns, but I am quite happy to go out on a limb and say we have several more than that. If I had a less-good memory for food and recipes, I might be more keen on an electronic filing system but as it is I know my library well enough to know where to find recipes I want pretty quickly without dependence on sometimes-obscure internet search terms.
There is a lot to be said for the internet as a source of recipes, obviously. I am a huge fan of having my grocery page open in one tab and my recipe open in the next, so I can make sure I have all the ingredients. I like googling a list of ingredients and seeing what combinations come up. I like happening upon recipes and ideas I had never even imagined. None of those things is a match for browsing through a good cookbook.
You can develop a relationship with a cookbook author, or even publishing house that you will rarely find when you google. You can know absolutely that if this book has these quantities you will need to reduce the amount of water, or spice, or that you can follow the baking time to the minute. One of the reasons you can know this is because the page is covered in splashes and scribbles, notes that you have made over the years. Your cookbooks are a personal history. I cannot believe I made a tamarillo and kiwifruit tart at one point in my life, but I see the picture on the page and know it was the 80s. I know also that I had an icecream maker at that point, because the same book contains the utterly divine rum and berry icecream I used to make. Cookbooks track fashions more clearly than your wardrobe does - you won't often see a recipe telling you to substitute sherry for rice wine now, because most of us hip foody types are much less likely to have the first now. Oh wait, tapas are in now, so sherry is back on the menu.
Plus, of course, when Virgin has a recorded message saying that North London is experiencing internet service outages, and the 6 cheesecake recipes I have bookmarked are out of my grasp, with a cookbook a cheesecake is still possible.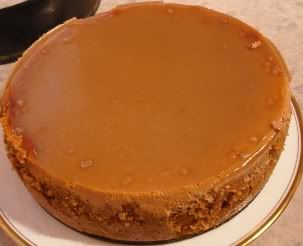 This is a smoked salt caramel cheesecake. I used the Australian Women's Weekly
100 Fabulous Cheesecakes
book (first published 1971 - a very good example of changing fashion in food!), basing my recipe on their Luscious Gourmet Cheesecake recipe. I substituted dulce de leche and black treacle for the sugar and lemon juice, and added a scant half teaspoon of oak-smoked salt. I made a topping based on the one for the Caramel Topped Cheesecake, although I used dulce de leche and cream instead of butter, brown sugar and water.
It was divine. So divine that it is an appropriate way to celebrate
Louise's blogoversary
, and America's National Caramel Month. Louise is having a cookbook party to celebrate 4 years of blogging and I am sure a smoked salt caramel cheesecake will be welcome!