I think
Raymond Blanc
is my very favourite Frenchman. He comes across on TV as charming, funny and quite cuddly and adorable. I have been lucky enough to eat at his restaurant
Le Manoir Aux Quat' Saison
s a couple of times and the extraordinarily detailed, precise yet clean-flavoured dishes they serve do nothing to reduce my Raymond-love.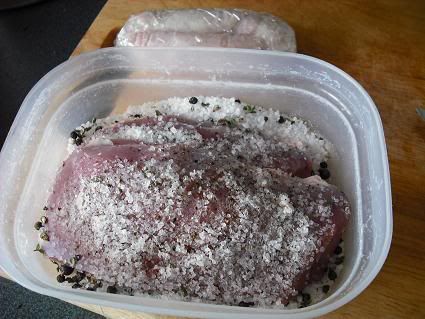 Naturally, therefore, I have been hanging on his every word in the latest season of
Kitchen Secrets
.
Raymond says duck ham is easy, so I make
duck ham
. My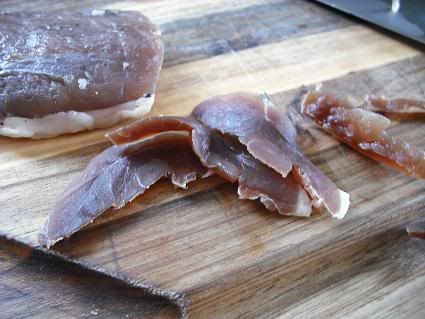 fridge doesn't have nifty little hanging bars, so I put the muslin-wrapped bundle on a cake rack over a plate. Very interesting tip about the fresh thyme inhibiting microbial growth.
From the ham (which turned out to be lovely and supple; perfectly flavoured), my ideas spiralled a bit out of control.
I knew I wanted to serve the ham with the
spiced orange slices
I made a few weeks ago (a nod to the classic duck a l'orange - and Australians
know
I am doing the Bundy Bear pronunciation) so that got me thinking of a duck-based charcuterie platter.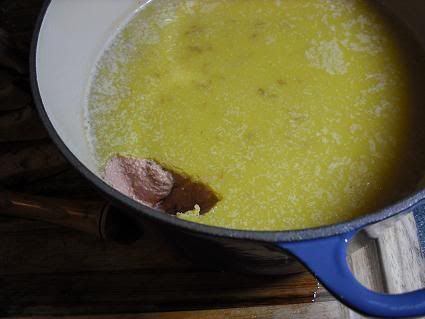 A duck liver parfait, based on
Raymond's chicken liver parfait
, seemed like a good idea. I used dry amontillado sherry instead of madeira and ruby port, and reduced the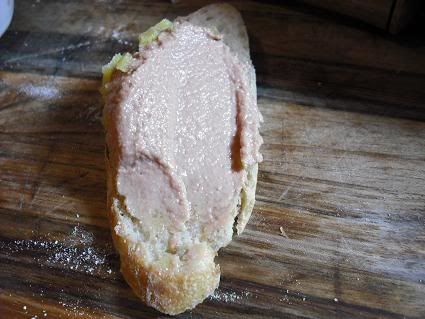 amount of egg and butter, because I wasn't planning to turn it out. And I just topped it with melted butter, instead of a mixture of butter and lard.
I also made a dish of
duck and cognac rillettes
. If I had used a bit of foresight, I would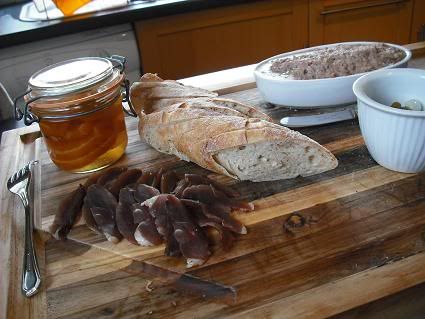 have bought a whole duck and butchered it for the ham and rillettes, but I wasn't that organised - I bought a pack of duck legs.
A freshly baked baguette and some crunchy cornichons (the only element I didn't make myself, as it happens) and we had a meal fit for royalty. Or for any French chefs who happen to be passing.