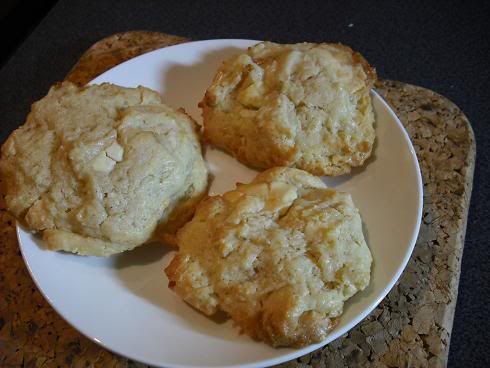 I have been waiting over a year for the chance to make these cookies! I spotted them on Laura's eternally
entertaining blog Hungry and Frozen in June
last year, but the right moment for a white chocolate cheesecake cookie had never arrived. Until now.
My variations on the recipe as written: I left out the 1/2 cup brown sugar, because a) it's fucking white chocolate, it doesn't need extra sweetness and b) I didn't want to mess with the white beauty of them; I used vanilla bean paste instead of vanilla extract; I substituted 1/2 cup of chopped dried apricots for some of the white chocolate chunks.
And the verdict? Oh yes! They are quite cakey, rather than being at all crisp; the cream cheese flavour pops out just enough to undercut the flavour of the white chocolate; the apricots were an excellent addition! It's a good thing I loved these, because the recipe makes thousands! I think you could substitute some slivered pistachios and cranberries for the apricots, to make wee festive red & green cookies, if you are still finalising your Christmas baking plans. Even if you don't, I really urge you to try these!