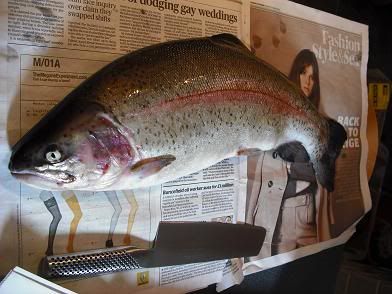 Paul hasn't had much chance to go fishing this year - the combination of working away and his fishing partner in crime being overseas has reduced the opportunities. But at the start of autumn, as the fish started to get a bit feistier after the summer torpor, they did get out for a throw. And Paul brought home this lovely 5lb creature.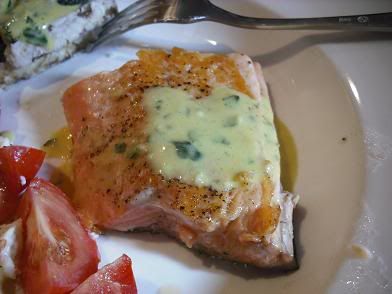 One fillet was cut into tranches. I just seasoned a couple with a bit of salt & pepper, cooked them in a hot pan with a little olive oil and served them with a basil and lemon dressing, tomato & buffalo mozzarella salad and courgette chips. It was moist, juicy and had a lovely flavour - just perfect.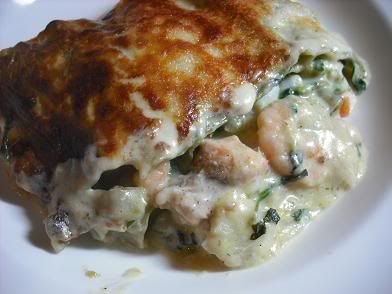 The remaining piece from the fresh fillet went into a seafood lasagne. I cut the flesh into chunks and combined it with some mirepoix (previously cooked and cooled), shredded spinach, undyed smoked haddock and big fat prawns. Then I mixed in some white sauce, layered it up with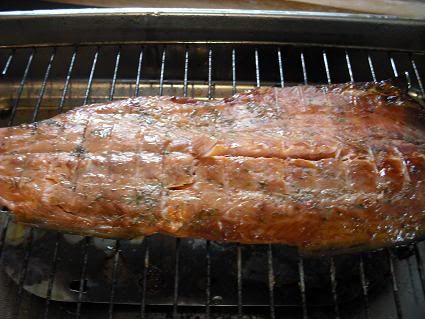 spinach lasagne sheets and topped it with more white sauce and some grated cheese to get the top nicely browned.
A 5lb fish is far too much for the two of us to eat fresh, so I cured the second fillet for 2 days in the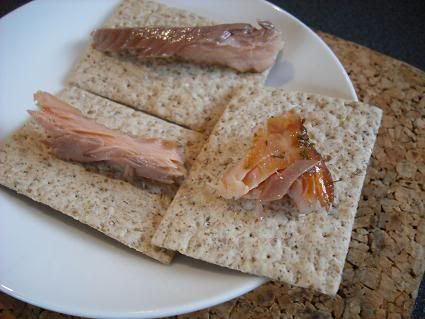 fridge, in a mixture of sugar, salt & dill, then hot-smoked it on beechwood chips.
I think this was my most successful smoked fish so far. The smoke flavour subtle enough to let the flavour of the fish through, the sugar and salt were well balanced and there was a delicate aniseed tang from the dill.
We ate some of it just on crackers, to test the flavour, and the rest was portioned up and stored in the freezer.
The other night I pulled out a piece and made a pasta dish/ While some angel hair pasta was boiling, I crushed a clove of garlic. While the pasta was drained, I sauteed the garlic in a knob of butter in the pasta saucepan, then added 100ml Greek yoghurt, some boiled and peeled brown shrimp, some baby spinach leaves and some flakes of the smoked trout. I tossed the drained pasta through this mixture until everything was hot, then served it with some roasted cherry tomatoes and salmon roe. The slight tang of the yoghurt, the smoke from the trout, the salty burst of the salmon roe with the sweet-acid burst of the tomatoes and the sweetness of the brown shrimp all came together really beautifully. Totally delicious.